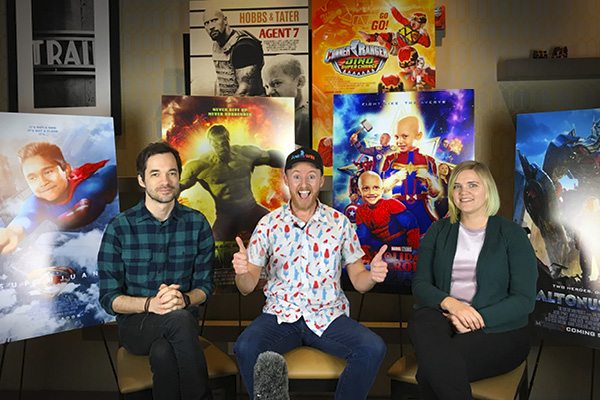 Because everyone deserves a chance to win, be awesome, and feel awesome."
That's the motto of the For the Win Project, a Los Angeles-based nonprofit that helps transform seriously ill and disabled children into super heroes.
Two of the co-founders of the project will speak at University of the Ozarks on Monday, Nov. 29, as part of the University's 2021-22 Walton Arts & Ideas Series. The event, which begins at 7 p.m. in the Rogers Conference Center, is free and open to the public. Covid protocols, including masks and social distancing, will be enforced throughout the event.
There will be limited seating and guests are encouraged to reserve their tickets at: https://www.eventbrite.com/e/walton-arts-ideas-series-for-the-win-project-tickets-207255545917
The event at Ozarks will feature partners Jesse Wilson and Megan Pearson, two of the creators of the initiative. The two will talk about the project and how it has impacted children. They will also show videos and photos of the project.
Since 2016, the For the Win Project has been giving seriously ill, disabled, and disadvantaged children the opportunity to be their favorite heroes in their very own "official" movie poster.  The organization aims to "create a new sense of hope, motivation, and give a self-esteem boost for each child, transforming them into heroes in order to raise both awareness and funds for whatever they may be up against."
The project has been featured in numerous newspaper and magazine articles as well as on TV programs, including the NBC Nightly News with Lester Holt.
Wilson grew up in Ohio and Florida and attended Arkansas Tech University before moving to Los Angeles in 2008. He is a freelance creative director working within the entertainment industry in Hollywood. He began his career working with famous Marvel creator Stan Lee, then created movie posters for one of Hollywood's biggest creative agencies. He also previously directed creative for Paramount Pictures and worked with various studios, agencies and companies.
Originally from Clarksville, Pearson graduated with a bachelor's degree in management and marketing with a minor in graphic design from Arkansas Tech before moving to Los Angeles in 2008. She is a producer for Klasky Csupo, an animation company famous for The Simpsons, The Rugrats, The Wild Thornberrys, and many more. She is the daughter of Pat Cogan, who serves as the office manager for the Office of Advancement and Alumni Engagement at U of O. Pearson and Wilson have one son, Jack.
Other members of the team include designer engineer James Winston and Steve Voccola, head writer at Stan Lee's POW! Entertainment.