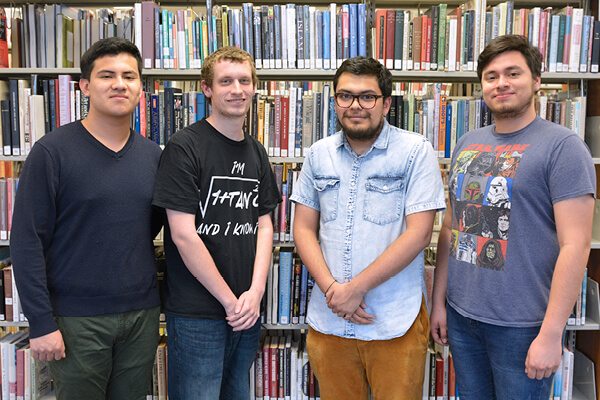 The University of the Ozarks team of Juan Fernando de la Cruz, Julio Molina-Pineda, Alec Mertin and Richard Javier Rodriguez beat out nine other collegiate teams from across the state to take first place in the 2019 Arkansas Undergraduate Mathematics Competition (AUMC), held Feb. 23 on the U of O campus.
It is the first top-three finish in the annual state-wide math competition for an Ozarks team since 2008 and is believed to be the first time an Ozarks team has finished first overall at the AUMC.
The Ozarks team took top honors with 75 points, six points ahead of second-place Hendrix College. Teams representing John Brown University, Henderson State University, Ouachita Baptist University, Arkansas Tech University and Harding University also competed in the event.
Dr. Matt Myers, professor of mathematics, and Dr. Casey Orndorff, assistant professor of mathematics, sponsored the U of O team in the event.
"We are very proud of what these students have accomplished," Myers said. "All of these students demonstrate a true passion for mathematics. Not only do they excel in mastering the material in their courses, but they also stay current with mathematical advances occurring in various other disciplines and around the world. Their first-place standing in this competition is a result of their passion and diligence. These are young men of character and integrity, and we are proud to have them represent University of the Ozarks."
Students competed in teams of 2-4 with no calculators, computers, books or notes available to them on the three-hour, 10-question test that emphasized problem-solving skills. Teams received 10 points for every correct answer and partial credit for incomplete but significant work.
The final results of the competition were not tabulated and confirmed until more than two weeks after the competition. The students learned of the first-place finish this week through an email from Myers.
"We felt that we had done well and even joked around that we had won, but we didn't know for sure," said de la Cruz, a sophomore mathematics major from Frontera, Tabasco, Mexico. "When we got the email, we were all pretty excited."
The Ozarks team held one-hour practices 3-4 times a week for about a month leading up to the competition.
"They have the previous tests on line and we would get together and just work on as many problems as we could get done in an hour," said Mertin, a senior mathematics major from New Blaine, Arkansas. "I think all that practice really paid off. We knew we had a chance to do well based on how we were doing in practice. Plus, it was fun to just get together and work on math problems."
Molina-Pineda, a biology and chemistry major from Tegucigalpa, Honduras, said the four teammates, all from different countries, complemented each other nicely.
"We all had different areas that we were strong in and it worked out very well," Molina-Pineda said. "Richard is really good at geometry, Juan is strong in calculus and advanced calculus and Alec and I are good at crunching the numbers. If one or two of us didn't know how to figure out the problem, the others would step up. Sometimes one of us would be able to solve half a problem and would get stuck and someone else would know how to finish it."
Mertin, de la Cruz and Rodriguez will all return next year and they said they've already discussed defending their title.
"The three of us all competed last year and didn't do so well, so the extra year of math classes definitely helped this time," said Rodriguez, a sophomore business administration and political science major from Managua, Nicaragua. "With even another year of classes next year, we're looking forward to competing again and seeing if we can repeat."
U of O had two teams compete in the competition. The U of O team of David Bondy and Paul Bien-Aime finished in ninth place.
Topics: About, Academics, Mathematics