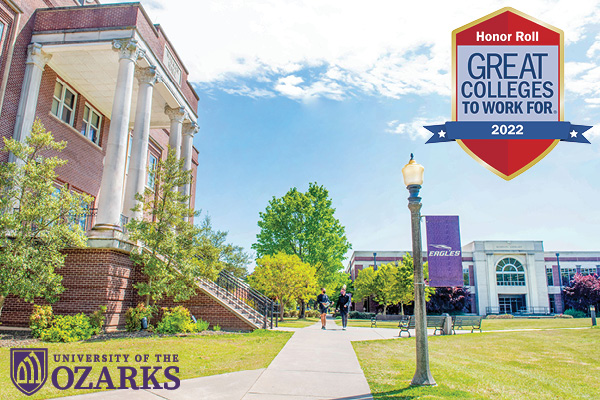 University of the Ozarks has been named one of the best colleges in the nation to work for, according to the Great Colleges to Work For® program.
The results, released today (Sept. 12) in a special insert of The Chronicle of Higher Education, are based on a survey of 212 colleges and universities. In all, 68 of those institutions achieved "Great College to Work For" recognition for specific best practices and policies. Results are reported for small, medium, and large institutions, with U of O included among the small universities (500 to 2,999 students.)
U of O earned honors in five categories this year:
•           Job Satisfaction & Support;
•           Compensation & Benefits;
•           Professional Development;
•           Mission & Pride;
•           Faculty Experience
Ozarks was also named to the Great Colleges Honor Roll, a status granted to only 42 colleges each year who are highlighted most across the recognition categories.
"It is heartening to receive external recognition and validation for the dedication, loyalty, sweat and sometime tears of the nearly 200 people who make University of the Ozarks such a special place," said U of O President Richard Dunsworth. "We strive to be a mission-driven, values-based organization and when individual passions align with institutional values wonderful environments can be created – even in the shadows of pandemics, unrest and uncertainty.  I am thankful to live and work among so many who are committed to preparing students to live life fully."
The survey results are based on a two-part assessment process: an institution questionnaire that captured employment data and workplace policies from each institution, and a survey administered to faculty, administrators, and professional support staff. The primary factor in deciding whether an institution received recognition was the employee feedback.
The Great Colleges to Work For® program is one of the largest and most respected workplace-recognition programs in the country. For more information and to view all current and previous recognized institutions, visit the Great Colleges program website at GreatCollegesProgram.com and GreatCollegesList.com. ModernThink, a strategic human capital consulting firm, administered the survey and analyzed the results.
Topics: About