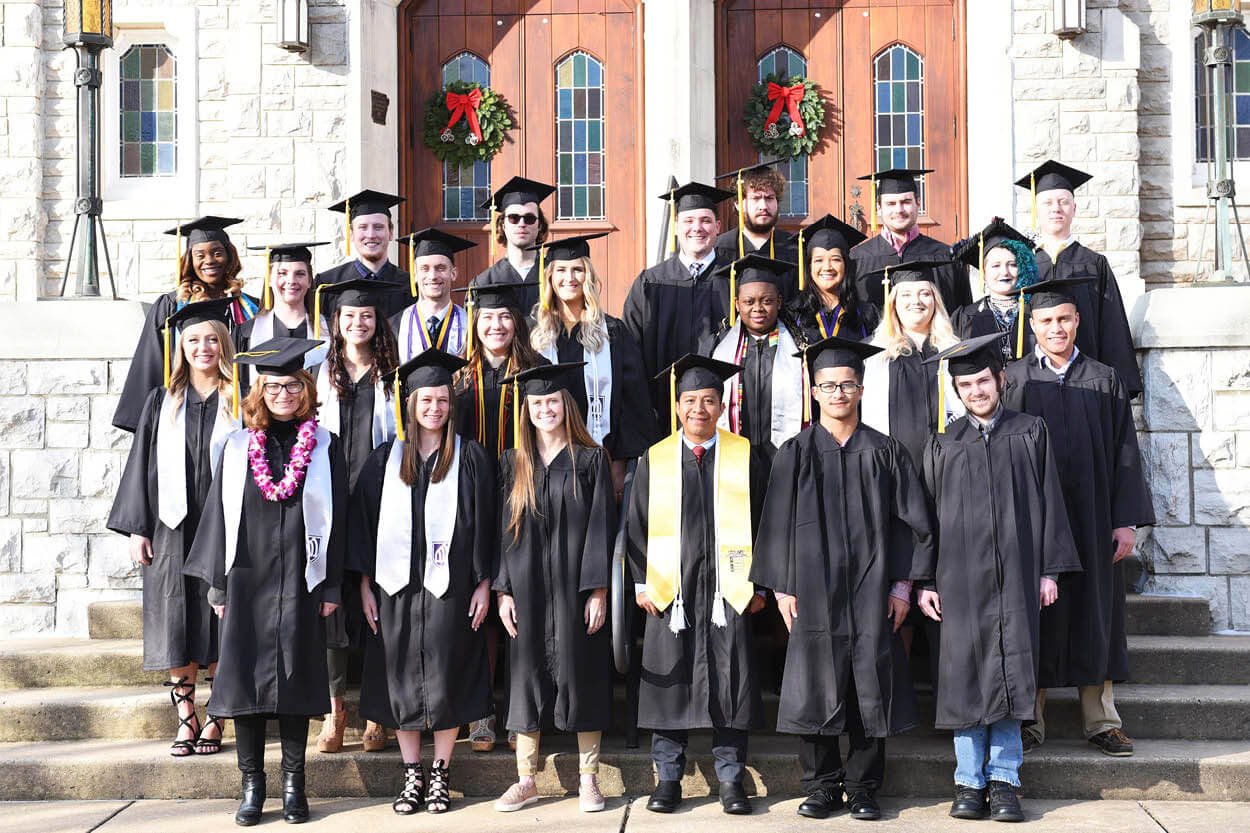 University of the Ozarks conferred degrees upon 24 graduating seniors during the 2019 Fall Commencement, held Saturday, Dec. 14, in Munger-Wilson Chapel.
Dr. Angela Wheeler Spencer, a 1998 U of O alumna and an accounting professor at Oklahoma State University, served as the keynote speaker. Dr. Jim Bruning, chair of the University's Board of Trustees, also commended the graduates on earning their diplomas.
Janae Williams, an environmental studies major from the Bahamas, gave the students' welcome address and classmate Micaela Winters, a psychology major from Fort Smith, Ark., provided the scripture reading.
The Fall 2019 graduates were:
Bailey Sierra Albertson
Shell Knob, MO
BS, Marketing
Shelby Lynn Bosken
Valley Center, KS
BA, Art
Magna Cum Laude
Lillian Marie Bostic
Rogers, AR
BA, Art
Johnathan Scott Bowen
Hartman, AR
BS, Political Science
Madison Carol Chaney
Sikeston, MO
BS, Health Science
Fielder Thomas Dufrene
Clinton, AR
BS, Physical Education
Monica Flores
Clarksville, AR
BS, Health Science
Summa Cum Laude
William Merrem Forbes
Houston, TX
BS, Mathematics
Brittany Alexis Holt
Mansfield, Texas
BS, Biology
Cum Laude
Jordan Alexander King
Moore, OK
Bachelor of General Studies
Rebecca Anne McCarron
Covington, LA
BS, Health Science
Magna Cum Laude
Alec Daniel Mertin
New Blaine, AR
BS, Mathematics
Summa Cum Laude
Jaret Kyle Milligan
Hillsboro, AL
BS, Health Science
Abigail Rae Mork
Aurora, CO
BS, Chemistry
Siaygnoun Somphone Nhamnhouane
Van Buren, AR
BS, Health Science
Cecilia Marie Pearson
Clarksville, AR
BA, Communication Studies
Aaron Elliott Smith
Bentonville, AR
BS, Health Science
Taylor Antionette Snellback
Lonsdale AR.
BA, English
Manuel Tambriz Sac
Aldea Palacal, Solola, Guatemala.
BS, Management, International Business
Magna Cum Laude
Amber Lennex Taylor
Tulsa, OK
BS, Business Administration
Jacob Austin Toland
Little Rock, AR
BS, Health Science
Cody Lane Walters
Rogers, AR
Bachelor of General Studies
Janae Danielle Williams
Nassau, Bahamas
BS, Environmental Studies
Magna Cum Laude
Micaela Elizabeth Winters
Fort Smith, AR
BS, Psychology
Topics: About, Academics, Community Events, Student Events