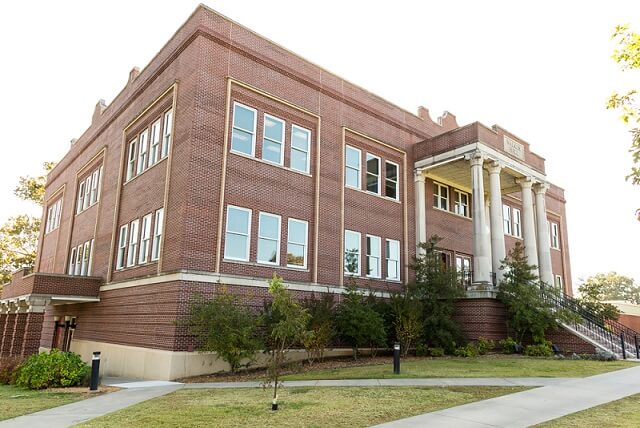 Tuition at University of the Ozarks will remain the same for the fifth consecutive year.
The University's Board of Trustees in February approved the recommendation of President Richard Dunsworth that tuition for the 2017-18 academic year remain level at $23,750, the same amount it has been since 2013-14. The announcement of the continued tuition freeze comes less than a year after the University eliminated $680 in compulsory student fees.
"We continue to be committed to providing the highest possible quality for our students and their families in the most affordable manner," said U of O President Richard Dunsworth. "We are mindful of the debt of our students, in particular as it relates to rising costs in higher education. One of our primary goals for the coming years is reducing the amount of debt for students through controlling the cost of tuition and allocating existing resources, including scholarships, grants and other financial assistance. Our efforts to control costs and improve quality are consistent with the mission and values of University of the Ozarks."
The board also approved no increases in the student food plans for 2017-18. There will be a slight increase of $200 a year in the room costs for students in the upcoming year.
U of O's tuition is nearly 30 percent less than the national average of $33,480 for a private, four-year university, according to The College Board's Trends in College Pricing 2016. Not raising tuition also runs counter to national trends in higher education. According to The College Board, the national average tuition increase was 3.6 percent in 2016 for both private nonprofit and public universities.
U of O's emphasis on an affordable and quality education is gaining nation-wide attention. In the fall, Ozarks was ranked No. 1 in the "Great Schools, Great Prices," value category among the 75 universities in the South Region by "U.S. News & World Report" for the second consecutive year.
And, enrollment continues to climb at the four-year, private, Presbyterian-affiliated university. Ozarks had a 5.4 percent increase in enrollment last fall, with 686 students, the largest enrollment since 2003. It marked the fourth consecutive year of growth and a 17 percent increase since 2014.
In addition, the overall retention rate for all students exceeded 77 percent.
"In today's higher education environment, controlling the costs to families while growing enrollment is indeed unique," said Reggie Hill, assistant vice president for advancement and director of enrollment management. ""Our efforts to control costs and improve quality are resonating with both prospective students and current students."
There are approximately 200 privately funded scholarships available for Ozarks students from generous alumni and friends. The university awarded more than $8.8 million in financial aid to Ozarks students in 2016-17.
"Our alumni and donors faithfully provide financial support for our students through the Annual Scholarship Fund and endowed scholarships," said Lori McBee, vice president for advancement. "Our mission drives us to provide educational opportunities for students so that they can live life fully and the support of our alumni and donors helps make that possible."
"For more than 180 years this University has been a trendsetter in social and educational leadership," Dunsworth said. "At the heart of our mission is the belief that an education from University of the Ozarks should be accessible, regardless of economic means."
Topics: About