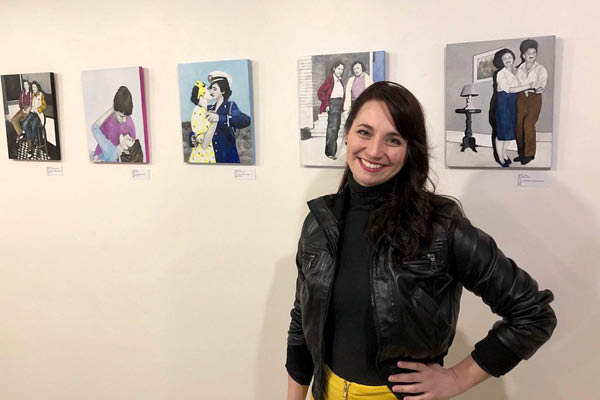 The University of the Ozarks Stephens Gallery will present Works by Rachel Trusty throughout September as part of the University's Artist of the Month series.
The exhibit will be on display through Sept. 30 in the gallery, located in the Walton Fine Arts Center. There will be a reception to meet the artist from 6-7 p.m. on Sept. 20 in the gallery. The exhibit is free and open to the public from 9 a.m. to 5 p.m. throughout the week.
A native of Russellville, Ark., Trusty is currently pursuing at Ph.D. in women, gender and sexuality studies at the University of Kansas. She earned a bachelor's degree in sculpture and art education from the University of Central Arkansas and a MFA in studio art from Lesley College in Boston.
Trusty said her exhibition "explores the act of actively remembering poignant moments from a personal past."
"The mixed-media photographs and paintings serve as personal memories, cherished and transformed through the process of physical touch and repeated remembering," she said. "The pieces feature women in ambiguous same-sex relationships. Historically, these relationships have been purposely overlooked and erased.
The pieces draw from the fiber practices of Feminist art and the traditional women's handicraft technique of hand-embroidery. Layers of touch imbue the photos with layers of personal meaning: The original photographs act as a document, bodies imprinted on paper through light. Ink revives the image, bringing it back to life. Hand-embroidery serves to rework, process, or embellish the original memory."
Trusty's research and art-making focus on LGBT+ history, women's history, gender theory and craft. She has shown her work in group and solo shows nationally in New York, Connecticut, Massachusetts , Missouri, Arkansas, and Kansas. Most recently, her work has been published in candyfloss and Phototrouvée magazines.