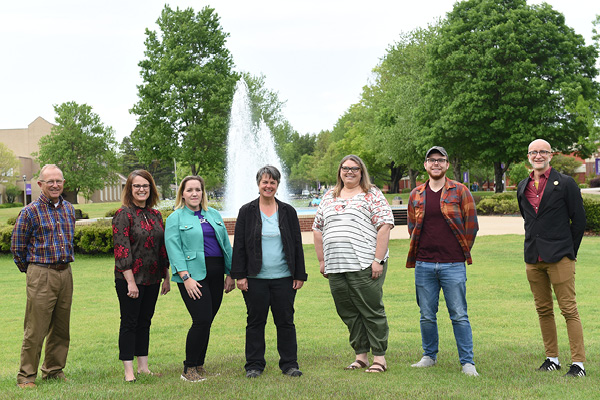 The University of the Ozarks' Board of Trustees presented its annual faculty and staff awards during the 2022 Trustees Awards Banquet, held April 29 in the Rogers Conference Center.
Among the recipients for 2022 were (pictured, from left) Albert Leding, Mary Jane Spillers, Sara Warren, Lisa Gruben-Inness, Alicia Nowotny-Stewart, Dr. Derek Warren and Dr. Nathan Eric Dickman.
Dickman, assistant professor of philosophy, and Derek Warren, assistant professor of biology, each received the Richard and Katherene Bagwell Outstanding Faculty Award.
Sara Warren, the lead barista at Campus Perks, and Nowotny-Stewart, office manager for Academic Affairs, each were honored with the Arnold G. Sims Outstanding Staff Award.
Leding, the University controller, and Spillers, director of operations, data and records, each received the Alvin C. Broyles Outstanding Staff Award.
Gruben-Inness, the operations coordinator for the physical plant, was presented the 2022 Dr. Rick and Sheree Niece President's Above and Beyond Outstanding Service Award.
Several other faculty and staff members also received service awards, including Samantha Hoing and Kimberly Maddox for 10 years; Phyllis Parsons and Dr. Kim Van Scoy for 15 years; Vickie Alston, Tammy Harrington, Vanessa Hollowell, Dr. Matt Myers, Dr. Amy Oatis and Dr. Joel Rossmaier for 20 years; Larry Isch and Debbie Siebenmorgan for 25 years; Dr. Stewart Dippel (in memoriam) and Dr. David Strain for 30 years; Patti Schuh for 35 years; and Robert Wofford for 40 years.
The trustees also honored several employees who announced their retirements this year, Felecia Atkinson (24 years), Stacy Key (23), Stuart Stelzer (39), Dr. Rhonda Shook (9) and Dr. Buddy Smith (42).
Topics: About, Academic Support, Academics