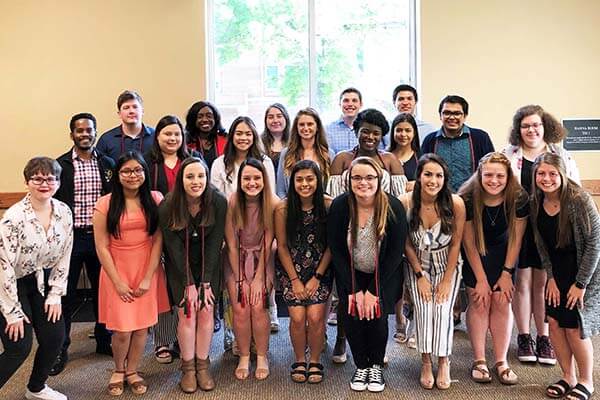 The University of the Ozarks' Nu Eta Chapter of Tri-Beta, the National Biological Honor Society, inducted nine full members and three associate members into its organization during a special ceremony held on April 23.
Among the full member inductees were, Breanna Aguilar, Mason Badour, Marana Fulmer, Brittany Holt, Joelle Long, Crystal Oudomvilay, Chloe Peacock, Hannah Randt and Cassandra Valdez. Those earning associate membership were, Sara Ambrocio Paque, Gracie Millar and Geovanny Acosta Cascante.
Several graduating Tri-Beta seniors were also recognized and presented with graduation cords. The seniors included, Nathan Hodge, Jada Mack, Shelby Morales, Grasyn Langley, Fernanda Hernandez Sanchez, Julio Molina Pineda, Cristin Connor, Hailey Brumley, Olivia Allard and Shayahan Bien-Aime.
Beta Beta Beta was founded in 1922 as a society for students who are dedicated to improving the understanding and appreciation of biological study and extending boundaries of human knowledge through scientific research. To date, more than 550 chapters have been established throughout the United States and Puerto Rico.
The Ozarks chapter of Tri-Beta, the Nu Eta chapter, was chartered in 2005, with 17 members. The faculty advisors for the Ozarks chapter are, Dr. Sean Coleman, professor of biology and dean of the division of Mathematics and Sciences, and Dr. Warren Sconiers, assistant professor of biology.