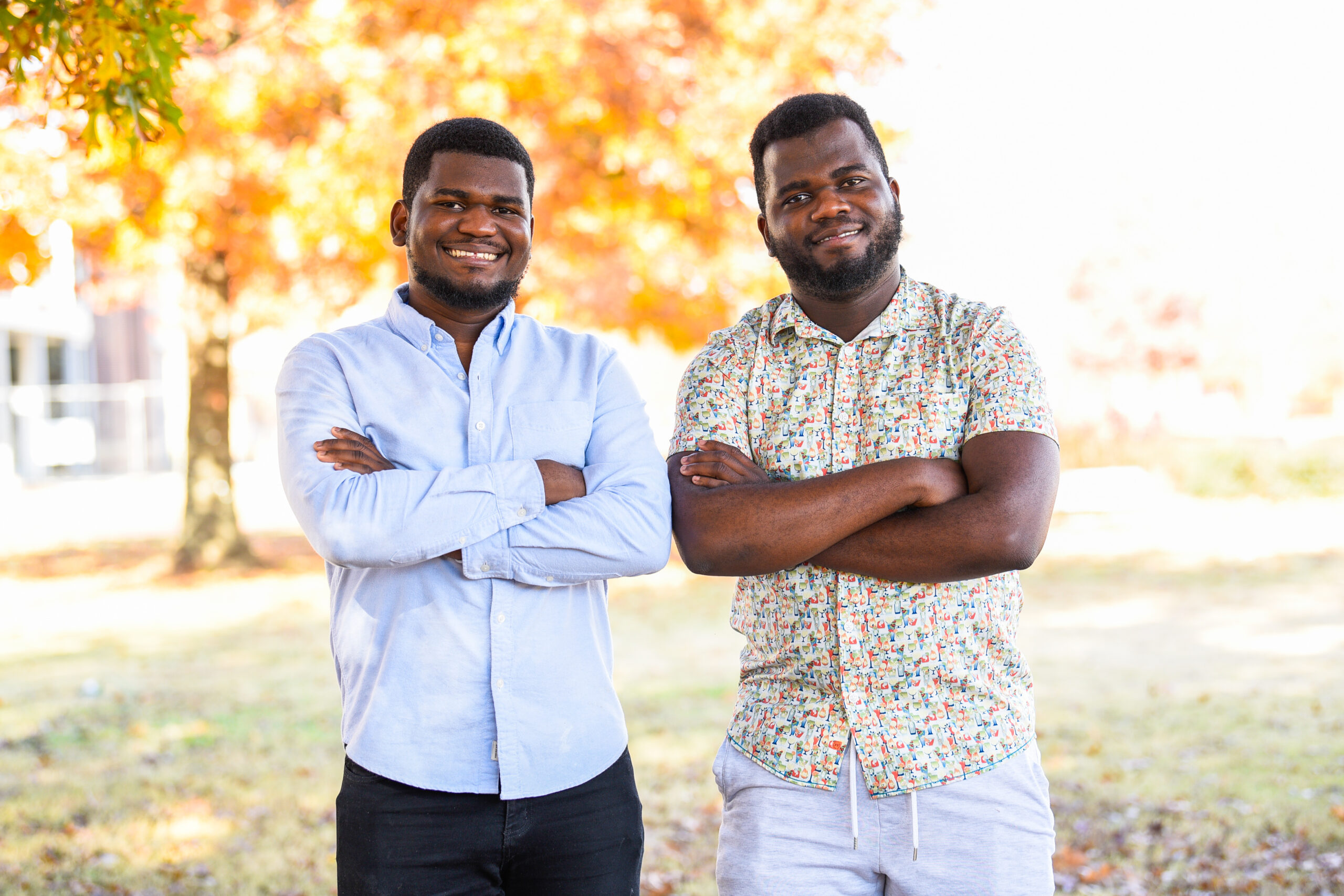 When Eder and Nedgee Thermozier graduate from the University of the Ozarks this month, they plan to use their education to continue a life of service and benevolence that began more than a decade ago in their home country in the Caribbean.
The twin brothers from Leogane, Haiti, will graduate from U of O during the fall graduation ceremony on Dec. 18. Eder (pictured left) will earn a BS in business administration and Nedgee will earn a BS in biology.
Growing up in Haiti, the Thermoziers were taught by their parents the importance of serving and helping others. That led them and four other friends to create an organization called BLEUET, which helps disadvantaged Haitian children, including those in orphanages.
"We would take our small savings and collect money and then do whatever we could to help children," Nedgee said. "It's something that has slowly grown over the years and now we have several people who help support it. Every year, we help more than 200 children by providing scholarships, giving them toys, hygiene kits and other commodities. We also supported people after the deadly Hurricane Matthew in 2016 and also the earthquake in August of 2021."
Eder, who is a few minutes older than his brother, said the idea of serving others first came about following the major 2010 earthquake in Haiti that killed more than 200,000 people.
"We were just 10 or 11 years old, but we saw the importance of coming together and helping each other to get through those difficult times," Eder said. "We saw our parents helping people and doing what they could and I think that inspired us. Helping others has been important to us since then."
When the Thermozier brothers boarded an airplane for the first time in January of 2018 and left their island country to attend Ozarks, they had no idea what to expect.
"We were a little nervous because we had never left Haiti, but mainly we were excited about the opportunity to study in the United States," Nedgee said. "It's pretty amazing how fast these four years have gone by and what a great experience it has been."
Nedgee, who is graduating with Cum Laude honors (3.25-3.49 GPA), has been accepted into the Rutgers School of Public Health in New Jersey to pursue a master's degree in global health. He is also still interested in his childhood dream of becoming a doctor.
"I want to do something in the biomedical field, whether that's as an administrator or as a physician," Nedgee said. "There's a great need for better medical and healthcare systems in our country, so that's one area that has really interested me."
Eder's career goals are centered on entrepreneurism. He has been accepted into the Hult International Business School for a master's degree in finance and is waiting to hear from several other schools he has applied to.  
"My career plan is to be my own boss," Eder said.
Eder said his favorite class at Ozarks has been a business communication class with Professor NaLisa Brown.
"This class has helped me to have a better understanding about business and technology, and also to develop professional skills such as, writing communication, oral presentation and Interpersonal and team communications," Eder said. "I never get tired of waking up in the morning because every day I learn something different and Professor Brown is amazing." 
The Thermoziers have not only shined in the classroom, they have made the most of their opportunities to get involved in extracurricular activities while at Ozarks. Nedgee has been a part of the Planet Club, Ozarks Biology Club and Ozarks Historical Society and Eder has been involved with Enactus, Caribbean Student Union, Rotaract, Ozarks Historical Society and Mediarks. 
"Ozarks has help me in so many ways," Eder said, "It has helped me know myself better, face my fears, learn new skills and meet people from all over the world. Because of Ozarks, I have become more independent and self-reliant."
Said Nedgee, "Ozarks helped me grow as both as a person and professionally. I was able to identify my weaknesses and work on them, while developing curiosity and leadership skills."
Wherever their future education and careers lead them, one thing the Thermoziers are passionate about is helping their home country.
"Education is the key to helping my country and that's my focus right now," Eder said. "Education is the most powerful weapon we can use to change our country for the better. We both want to do our part to help Haiti become better and it starts with getting as much education as we can."
The Thermoziers, who have a younger sister in college in France, said they expect their parents as well as an aunt and uncle to attend their graduation. It will be an especially proud moment for the brothers.
"It will be emotionally amazing," Eder said. "We were born together, finished high school together and now we will finish college in the U.S. together. That's pretty incredible."
Topics: About, Academics, Biology, Business Administration, Career Services, Student Stories