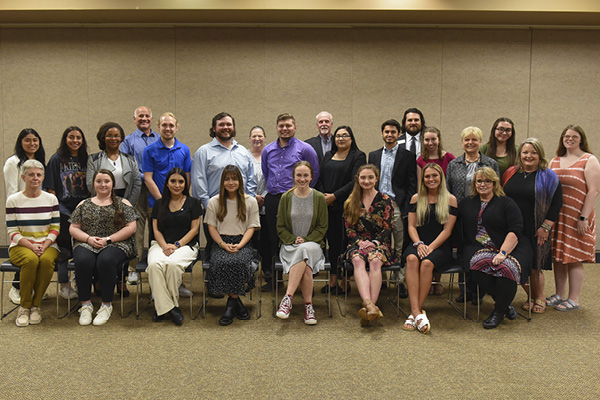 The University of the Ozarks Pat Walker Teacher Education Program honored several of its students recently with a pinning ceremony and inductions into the Ozarks Student Education Association (OSEA) and Kappa Delta Pi (KDP).
The event was held in the Rogers Conference Center and featured as keynote speaker Roy Hester, director of the Guy Fenter Education Service Cooperative and a member of the University's Teacher Education Advisory Committee.
Those who attended the ceremony included (pictured, seated from left) Michele Brown, Sarah Lewis, Alondra Martinez-Galan, Abigail Ramirez, Katherine Barnwell, Paige Vire, Janna Rhinehart, Pam Smith (back row, from left) Andrea Macario-Berben, Claudia Garcia,  Samantha Burke, Dr.  Jeff Elwell, Truman Hensley, William Kinser, Dr. Doris Metz, Kaleb Ballard, Roy Hester, Ilda Barrientos, Dallas Elmore, Dr. Sergio Molina, Jennifer Schmidt, Joanne Lynch, Aislinn Zapata,  Dr. Christine Scott, Amanda Briggs. Not pictured is Sidney Raymond.
The pinning ceremony is a symbolic, time-honored tradition marking the occasion when students are formally welcomed into the teacher education program. The newest inductees received a pin that signifies their association with the teaching education program as well as their new affiliation with the teaching profession.
Brown, Lynch, Dave Meador (not pictured) and Shelley Vaughn (not pictured) are all members of the University's Teacher Education Advisory Committee. Smith is the director of the teacher education program and Metz is the sponsor for OSEA and KDP.
Kappa Delta Pi is the international honor society for teacher education. It was founded by Dr. William Bagley in 1911 at the University of Illinois. It was established to foster excellence in education and promote fellowship among those dedicated to teaching. The founders chose the name from the Greek words to represent knowledge, duty, and power. Pioneering from its beginning by including women as well as men, KDP grew from a local chapter to the international organization it is today, comprising 600 chapters and more than 40,000 members.