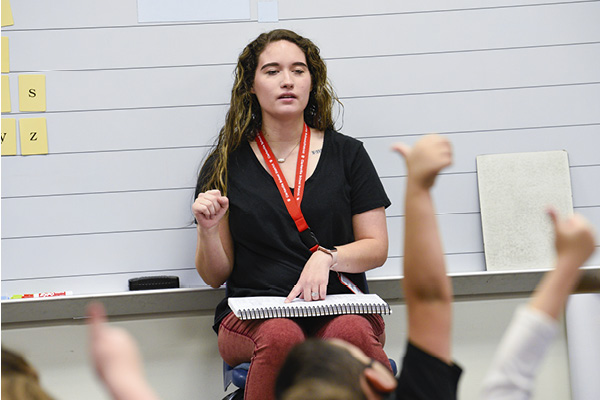 The University of the Ozarks' Pat Walker Teacher Education Program has been recognized for its students' high pass rates in the state licensure exams.
U of O elementary education students ranked first in Best-Attempt Pass Rates and sixth in First-Attempt Pass Rates in Arkansas in 2021, according to the National Council on Teacher Quality (NCTQ).  Aspiring teachers in Arkansas must take and pass the Praxis Elementary Education: Multiple Subjects test, one of the final steps before earning a teaching license.
Pam Smith, director of the Walker Teacher Education Program, said the education program at Ozarks takes numerous steps in helping its students prepare for the Praxis exams.
"We believe candidates need support as they fulfill the requirements of teacher licensure and one of those areas where candidates continue to need support is Praxis testing," Smith said. "Research shows that many students who take the exam and do not pass the first time will not retake the test.  Therefore, our department has established timelines to include study/tutoring sessions provided by the Department of Elementary and Secondary Education, networking with recent graduates on how to be successful on the test, and when to take the exam that is required."
Smith also commended her colleagues from other disciplines across campus.
"Our candidates are also supported by the content teachers across campus that provide the knowledge base needed to be successful in their licensure area," she said. "It is a team effort that creates the environment of support the candidates need to be successful on the exams and prepared for their future classrooms."
According to the NCTQ, U of O students achieved a state-best 100 percent success rate in 2021 in Best-Attempt Pass Rates, the number of test-takers who pass regardless of the number of attempts. In First-Attempt Pass Rates, Ozarks students achieved a 50 percent success rate, well above the state average of 39 percent.
Also, the U of O program was one of four universities in the state to be recognized for having a high proportion of Pell grant recipients and high pass rates. Ozarks has more Pell grant recipients (42%) than the state average (35%) and exceeds the state's first-time average pass rate.
According to the NCTQ website, "Pass rates, or the rate at which teacher candidates pass their licensing tests, serve as a compass, pointing toward strengths and opportunities in preparing teacher candidates. With this information, states and programs now have the opportunity to look at the data from multiple perspectives. Each lens conveys important insights on the quality of institutions' preparation, their level of encouragement and support for retaking a failed test, persistence on the part of test takers, as well as commitment and innovation to overcome educational inequities and inadequate K-12 preparation."
More information can be found at:
Topics: About, Education, Elementary Education