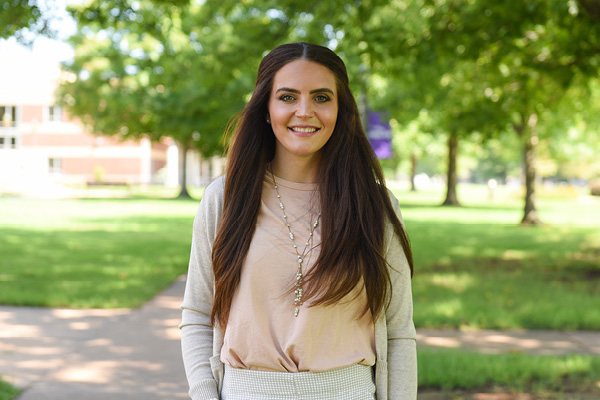 University of the Ozarks alumna Karlee (Henson) Swartz '18 has returned to her alma mater as creative director in the University's Marketing and Enrollment Department. Her first day was Aug. 1.
Swartz most recently served as the downtown director and marketing director of the Clarksville-Johnson County Chamber of Commerce.
As creative director, Swartz will lead the University's social media and graphic design efforts. 
"I am so excited to be returning home to Ozarks, and to have this opportunity to delve into my passions of creating, designing and marketing," Swartz said. "Following my tenure as a student at Ozarks and as an employee at Labette Community College, I knew higher education is where I wanted to make my career and I'm especially grateful to be able to do that here at U of O. I am so thankful for all of the kindness and help I've received so far with getting me acclimated to my new position and I cannot wait to start this adventure."
A native of Mulberry, Ark., Swartz graduated from Ozarks in 2018 with a degree in management and biology (wildlife/ecology) and with honors. 
After graduation, she served as the marketing and communications director for the Chamber before moving to Kansas where she worked as a recruiter and academic advisor at Labette Community College in Parsons.  She returned to work for the chamber in August of 2021.
Swartz's husband, Sam, is a 2019 Ozarks graduate. They enjoy outdoor activities, listening to live music, and spending time with their family, friends and fur babies.