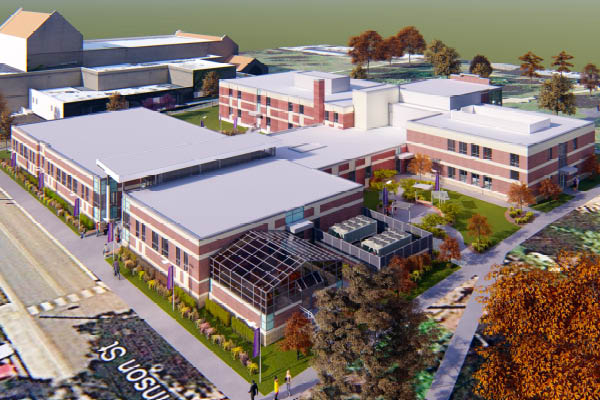 University of the Ozarks has received a $500,000 grant from the Sunderland Foundation of Overland Park, Kan., for the University's new science center project.
The gift is part of the University's Climb Higher Campaign that recently surpassed the $68 million mark, significantly exceeding the campaign's initial goal of $55 million. The campaign will conclude on April 14, 2021.
The Sunderland gift will go toward an $18.6 million renovation and addition to the University's science center. The University has raised $17.5 million for the project to date.
"We are honored to have a new partnership with the Sunderland Foundation," said Lori McBee, vice president for advancement and alumni engagement. "This investment will develop the careers of students from diverse economic and educational backgrounds, improve the environmental and health demands of society, enhance community partnerships through technology and research, and advance the career opportunities of graduates in Arkansas while keeping student costs down.  It's exciting to move forward with them."
The science center project will add 18,000 square feet to the current facility for the University's natural and health science programs, including biology, environmental sciences, chemistry, health sciences, physics and psychology. The complete renovation to the existing building, which was built in 1969, will include state-of-art classrooms and laboratories as well as new dedicated research areas.
Construction is expected to begin in the spring on what will be the single largest capital construction project in the University's 186-year history.
The Sunderland Foundation was established in 1945 by Lester T. Sunderland, who served as President of the Ash Grove Cement Company for 33 years as a highly respected leader in the cement industry. Since its inception, the Foundation, which continues to be led by Lester T. Sunderland's descendants, has focused on supporting construction projects, awarding grants to nonprofits in the Kansas City region and other markets traditionally served by the Ash Grove Cement Company.  Grants are awarded in western Missouri, Kansas, Nebraska, Arkansas, western Iowa, Idaho, Oregon, Washington, Utah and Montana.
Topics: About, Donor Spotlights