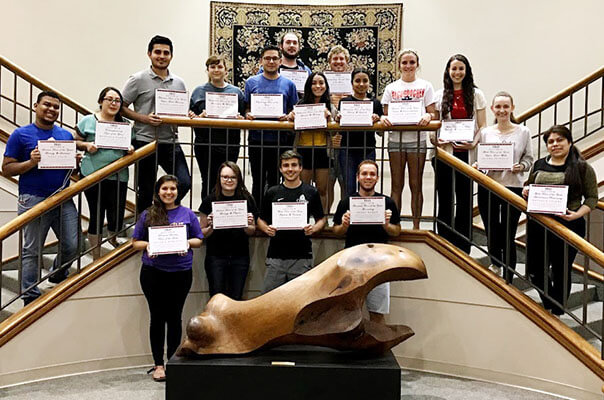 The University of the Ozarks' Student Success Center honored both graduating seniors and outstanding tutors during its annual Tutor Awards and Graduation Celebration on May 1, 2018.
Twenty-nine graduating seniors who participated in the Student Support Services' Trio program were recognized. In addition, the center honored 17 tutors for their outstanding contributions to our program.
Matt Dixon was named the center's Outstanding Overall Tutor of the Year.
Other awards for tutors included, Ohany Roman (Business Tutor of the Year, accounting), Miguel Cuellar (Business Tutor of the Year, upper-level business), Hailey Hardgrave (Science Tutor of the Year, biology and physics), Karlee Henson (Science Tutor of the Year, earth and environmental science), Isaac Julio (Science Tutor of the Year, biology and statistics), Elias Loria (Psychology Tutor of the Year), Anicka Wilcox (Humanities Tutor of the Year, literature and writing), Patrick Brown (Humanities Tutor of the Year, art and writing), Brenda Sandoval (Humanities Tutor of the Year, history and Spanish), Maria Corea (Humanities Tutor of the Year, Spanish and writing), Berenice Osorio (Communications Tutor of the Year), Valeria Robleto (Political Science Tutor of the Year), Rose Ezell (Math Tutor of the Year, calculus and trigonometry), Nathalie Calero (Math Tutor of the Year, quantitative reasoning), Jelena Petrovic (Math Tutor of the Year, upper-level math), and Thomas Ross (Math Tutor of the Year, algebra and calculus.)
Topics: Academic Support