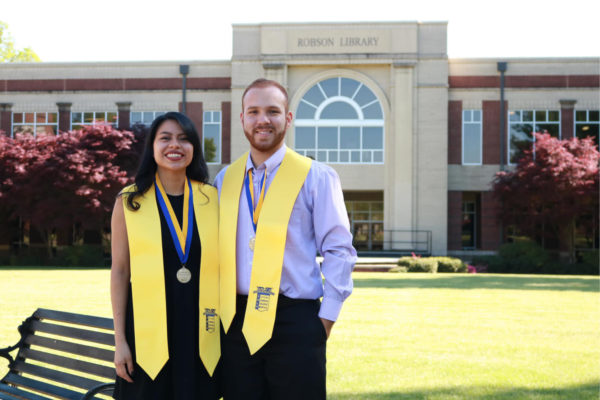 Several U of O students recently placed in the Arkansas Phi Beta Lambda (PBL) 2020 State Leadership Conference.
The conference was held online via Zoom on April 7.
Ozarks received five first-place finishes in the annual business competition.
The team of Guillermo Hernandez and Tanner Young won first in Hospitality Management and the team of Mayu Rivas and Ohany Roman (pictured) won first in Global Analysis & Decision Making. The Ozarks team of Isias Ortiz, Kenia Roa and Richard Rodriguez won first place in Economic Analysis & Decision Making and the team of Yallin Blackman, Melissa Brenes and Roses Brown won first in Business Sustainability. Ortiz also won first in Macroeconomics.
The Ozarks team of Yessenia Alvarez, Laura Gochez and Yeimy Rodriguez took second place in Global Analysis & Decision Making, Juan De La Cruz was second in Programing Concepts, Valdini Eugene was second in Microeconomics and the team of Cristina Duran and Devis Garces took second in Marketing Analysis & Decision Making.
Xavier Ruiz finished third in Macroeconomics and Paul Bien Aime was third in Microeconomics.
"I was proud of how our students competed despite the fact that it was held online and that we did not get to compete in all of the categories," said PBL Advisor Dr. Scott Sheinfeld, assistant professor of management.
Topics: About, Academics, Business Administration, Student Organizations