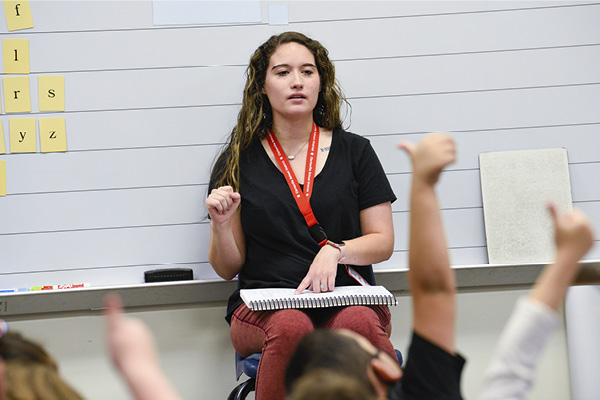 "Mrs. Masterson you're my favorite." "I love you, Mrs. Masterson."
Those words coming from first-graders in University of the Ozarks student intern Rachael Masterson's class go a long way in encouraging and inspiring the senior from Clarksville, Ark. But there is more to what brings her back to the classroom energetically each day.
"To hear your students say those things are so amazing to hear," Masterson said. "That on its own is enough to make me want to keep going, but the thing that has kept me so motivated is seeing their progress as I have taken over the classroom this semester. Seeing them all so excited to participate in lessons, and so eager to learn makes me, as an educator, beyond proud. I love seeing it 'click' when something that has been tripping them up is finally cleared up for them. I just love going to work every day knowing how excited they are to see me and to learn."
Masterson is completing her Internship II class this semester at Clarksville Primary School and is scheduled to graduate this December. She said she initially decided to get into teaching because of the teachers she had growing up.
"I had teachers who would go above and beyond for me and I still remember that to this day," she said. "So, I knew starting out that I wanted to make a difference in students' lives the way those teachers had impacted me."
Masterson said she is constantly aware that "teachers are sometimes the only positive person in a student's life."
"So many of our students are coming from vastly different backgrounds and home lives, and you genuinely have no idea what they face outside of your classroom," Masterson said. "The one thing you can do for those kids is come in every day, and just be there for them. Making a positive impact on students is so important as educators, and I would say that knowing that is what has kept me so invested in becoming a teacher. I just want to make a difference in at least one student's life."
Masterson's mentor teacher at Clarksville Primary is Jessica (Prater) Crook, a 2014 Ozarks graduate who was recently named the 2021 Outstanding Mentor Teacher in the state by the Arkansas Association of Teacher Educators (ArATE).
"My internship experience has been amazing. I couldn't ask for a better mentor teacher, and I'm so thankful Professor Pam Smith placed me in Mrs. Crook's classroom," Masterson said. "Those two ladies have done everything they can to work with me, and to make sure that I'm getting the most out of my time in the Clarksville schools."
Masterson admitted that the classroom experience has been an eye-opener.
"My biggest surprise has been learning all the ins and outs of running a classroom," she said. "You study it in class and think you know what you're getting yourself into, but I have quickly learned that talking about it in your college classes and then actually being in your own classroom are so completely different."
Masterson has masterfully managed being a wife and mother with doing her internship and completing her degree requirements this semester. She and her husband, Josiah, have a daughter, Kylie Jo, who turns two in January. They are also expecting their second child in February.
"Juggling school, being a wife, becoming a mom, doing my internship, and completing my degree has not been an easy task at all," Masterson said. "I could not have made it this far without all the help from my husband, my parents, my mother and father-in-law, and my grandparents. People say it takes a village, and that is so true. Without their support I don't know how I would have been able to make it as far as I have. I am truly blessed to have my little village."
Masterson also praised her professors in the Pat Walker Teacher Education Program for preparing her for her first classroom.
"My professors here at Ozarks have done everything they can to give me as much experience as possible before going into this career field," she said. "From prepping me before going into the classroom, providing chances to go to different schools in Johnson County, and then doing interviews with TEAC committee to hear what principals are looking for in teachers coming into their schools. I feel as though my professors here at Ozarks have gone above and beyond to give me as much insight as they could."
She called her entire Ozarks experience "one that I will always be grateful for."
"I have made some of the best connections not only with friends here, but with the faculty as well. Ozarks has helped me to find friendships, and has pushed me outside my comfort zone. I have grown so much in my four years here, and I have been able to work towards my future career here. I am so thankful for my time here."
Topics: About, Education, Elementary Education, Internships, Student Stories