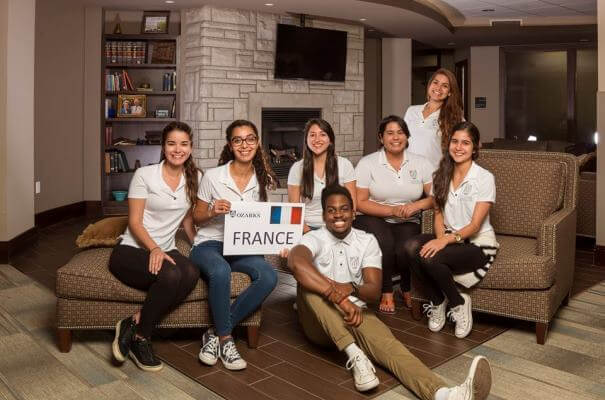 Nine University of the Ozarks students took their business education abroad to the City of Light this summer.
The students enrolled in a two-week summer program at the Paris School of Business (PSB) in July, taking courses such as luxury brand management, global conflict diplomacy and international entrepreneurship. They were among more than 70 Ozarks students who have travelled outside the United States over the past 12 months in programs ranging from academic classes, internships and volunteer efforts. A recent partnership with the PSB is part of a new emphasis from U of O to encourage and assist its students to study abroad.
Nicole Justice, a junior international business and political science major from Panama, studied global conflict diplomacy at the PSB. She enjoyed hearing from her fellow classmates who came from countries throughout the world.
"I learned how to appreciate the different perspectives that my classmates had," Justice said. "Another great thing was that we heard from professionals who were experts in their field and who had valuable life teachings and personal experiences. Overall, I was able to expand my vision of the world."
Nine University of the Ozarks students took their business education to the City of Light during the summer of 2016 by enrolling in a two-week program at the Paris School of Business (PSB). The students studied such topics as luxury brand management and global conflict diplomacy at the world renowned business college, which has an international partnership with U of O.
Claudia Porras, a business administration and strategic communication major from Costa Rica, attended the luxury brand management course and said the course opened up several new career possibilities for her.
"It was fascinating to learn about luxury companies and how they're marketed, branded and managed," Porras said. "The experience definitely helped me grow academically and sparked interests for me in areas that I wasn't even aware of."
KC Nkalari, a junior business management major from Rockwall, Texas, also studied luxury brand management and was impressed with his professors.
"The professors really emphasized thinking differently," he said. "Much like many of our professors at Ozarks, all the professors we came into contact with had real-world experience on top of their degrees. The most fundamental part was that those professors challenged us to think differently than the student sitting next to us. They stressed that we didn't have to be the smartest person in existence to be successful, we just needed to strive to think outside of the box and apply ourselves and it was remarkable to hear that."
In Justice's global conflict diplomacy class, field trips to historical or significant sites around Paris was part of the experience.
"Visiting the Paris headquarters for The United Nations Educational, Scientific and Cultural Organization (UNESCO) was thrilling for me," Justice said. "Seeing UNESCO and learning more about what they do, their history, dedication and commitment to their work made my heart fill with joy and affirmed to me that this was my vocation. Working with non-profits has always been part of my career aspirations and after concluding the short program with PSB, I feel confident with my pursuit to reach that goal."
U of O President Richard Dunsworth had the opportunity to visit with the students while they were in Paris. He said the officials at PSB were impressed with the Ozarks students.
"Each and every faculty and staff member at the Paris School of Business who had interactions with our students complimented Ozarks and especially our faculty for the preparation and professionalism the students demonstrated daily," Dunsworth said. "That is a wonderful testament to both our students and to our faculty."
It wasn't all classroom work for the students. There were plenty of opportunities for sight-seeing throughout Paris, including some memorable moments.
"Watching fireworks over the Eiffel Tower on a French national holiday is something I will never forget," said Nkalari. "Never in my wildest dreams did I ever imagine being able to watch a fireworks celebration at one of the most memorable and most widely recognized monuments in the entire world."
Nkalari was one of several students who received the University's King Scholarship to help pay for the travel abroad experience. In 2015, the estate of Virginia L. King created the King Endowment for International Study to assist students who want to participate in study abroad programs, internships and volunteer projects outside the U.S. Already in 2016, 30 Ozarks students have utilized the King Scholarship to study abroad.
"I had the incredible opportunity to study luxury brand management at the prestigious Paris School of Business, thanks to the King Scholarship," Nkalari said. "It meant the world to me because without the scholarship, there was no way that I could afford to do so. It is amazing to be a part of a University that invests in its students just as much as we invest in it. This experience reaffirmed my goal of pursuing my master's degree and working for a company that is international. I learned so much in the three weeks I was in Europe, and I feel more confident than ever that business is the path I want to go down."
Topics: Business Administration