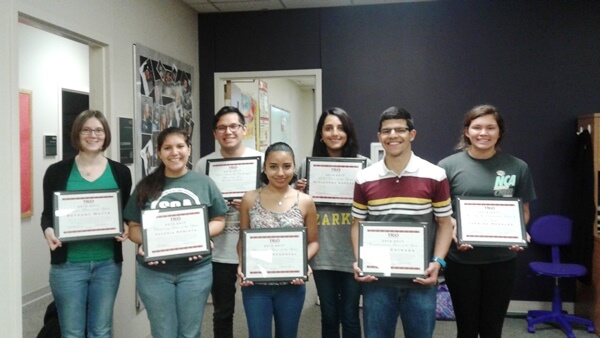 Alejandra Arreaga, a psychology and early childhood education major from Guatemala, was named the University of the Ozarks' Student Support Services (SSS) Overall Tutor of the Year during the organization's annual Spring Fling awards ceremony on April 17.
Staff members from SSS announced the tutor awards in several subject areas during the ceremony. Award recipients were selected based on their work ethic, knowledge of the subject area, and nominations from the students they tutor. The event also honored other supporters as well as SSS students who will graduate from the University in May.
Among the students who received Student Support Services tutor of the year awards in various subject matters were (from left) Bethany Watts, Valerie Robleto, Elias Loria, Brenda Sandoval, Alejandra Arreaga, David Estrada, and Jasmine Rosales.
All SSS tutors are recommended by a faculty member, have a GPA of 3.0 or higher, and have received either an A or a B in the course in which they tutor. Student Support Services is a federally funded TRIO program that encourages and motivates students to complete a post-secondary education. The Ozarks' SSS program provides academic advising, tutoring, counseling, and financial aid information. All services are free to eligible students.
Those receiving tutor awards in the various categories included:
Student Support Services Overall Tutor of the Year: Alejandra Arreaga
Business Tutor of the Year: Matt Dixon
Communication Tutor of the Year: David Estrada
Education & Writing Tutor of the Year: Jasmine Rosales
Humanities Tutor of the Year: Brenda Sandoval
Math Tutor of the Year: Thomas Ross
Psychology & Social Science Tutor of the Year: Elias Loria
Science Tutor of the Year: Bethany Watts
Chemistry Tutor of the Year: Valeria Robleto
Other recipients during the Spring Fling included:
Dedication – This award is given to those demonstrating great dedication and persistence in academic excellence:
Hailey Hardgrave
Abigail Mansur
Rianna Rea
Honorable mention: Victoria Stiner, Miranda Watson
Promise – This award is given to First Year Students for exhibiting involvement in Student Support Services activities, dedication to academic success, initiative, and responsibility.
Lydia Harris
Tyler O'Banion
Hailey Godfrey
SSS Ambassador – This award recognizes those students who have gone above and beyond to educate, promote, and advance the mission of our Student Support Services program.
April Townsend
Ricky Scott
Ny'Trell Dean
Friends of Student Support Services (FOSSS) Awards – The FOSSS award recognizes and honors the contributions made by members of the Ozarks' community who have given time and energy to support our program.
Stuart Stelzer
Doug Denne
Lisa Thomas
LaTanya Shook
Topics: Academics