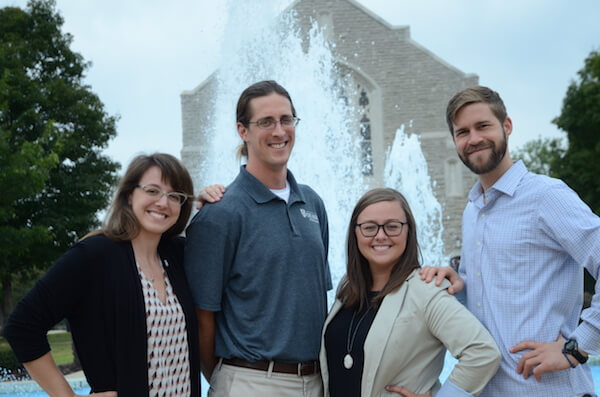 In an effort to enhance and expand the student experience, the Office of Student Engagement was recently created.
A part of a restructuring in the Office of Student Affairs, the new office was developed over the summer to tie into the University's philosophy that student engagement and global initiatives should be an integral part of the students' experiences at Ozarks.
Bendex Stevenson, who has served as the director of Ozarks Outdoors since 2015, has been tabbed to lead the new office as the assistant dean of students and director of student engagement. New staff members in the office include Kelsey R. Reed, Amanda Kuster and Adam Bates.
Steve Weaver, dean of students at Ozarks, said the new student engagement office in the Seay Student Center is intended to be "a space for students to work with and collaborate with their peers, to seek resources as an international or domestic student, to engage in study abroad and campus activities, and to get involved in the Ozarks community."
"We invite all students to participate, grow and develop, and fully engage in the Ozarks experience," Weaver said. "It is through this process of engagement that we believe our students become more connected and invested in Ozarks, are more likely to persist to graduation, and are better prepared to enter into their life after Ozarks."
The Office of Student Engagement Staff includes:
Bendex Stevenson
Assistant Dean of Students and Director of Student Engagement
Born in Florida and raised in Indiana, Stevenson first joined Ozarks in 2012 in an internship with Ozarks Outdoors. He returned to the university in 2015 to serve as the director of Ozarks Outdoors. He earned his bachelor's degree from Indiana State University and a master's degree in public administration from Southern Illinois University. An avid outdoorsman, Stevenson is certified in swift-water rescue and as a rock-climbing single pitch instructor and wilderness first responder.
Kelsey R. Reed
Assistant Director of Student Engagement and Residential Life
A native Arkansan from the Little Rock area, Reed has a bachelor's degree in biology as well a recently completed master's degree in student affairs, both from the University of Arkansas Little Rock. She is a proud dog mom of a 3 year-old Chesapeake Bay Retriever named Ellie May, is an avid outdoorswoman, a lover of water, sunsets, Razorback football, and hunting.
Amanda Kuster
Assistant Director of Student Engagement and Residential Life
Kuster, who oversees the university's global initiatives and advises the Residential Hall Association (RHA), has more than six years of experience in university housing and residence life.  She served as an RA for almost two years while obtaining a master's degree in higher education at the University of Central Arkansas. Kuster previously served the University of Alabama at Birmingham (UAB) as a residence life coordinator were she coordinated an apartment style building with 415 beds. She loves jokes and is an aspiring comedian.
Adam Bates
Assistant Director of Ozarks Outdoors and Residential Life
Originally from Washington, Bates earned a bachelor's degree in English literature from Western Washington University. He also has a master's degree in environmental education with certifications in non-profit administration and Northwest natural history from North Cascades Institute and Western Washington University. He is a certified Wilderness First Responder and outdoor enthusiast. Bates has worked as an outdoor educator, in a brewery, on a taco truck, in a corporate office space, in a fish and flax oil factory, and for a poetry publishing company.
Topics: About, Campus Life, Student Life