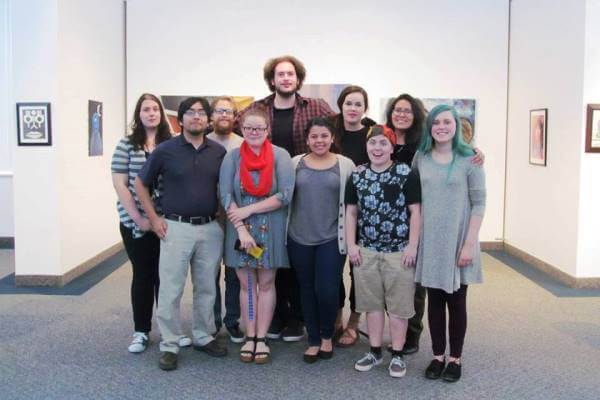 The University of the Ozarks art department will present its annual Student Art Exhibit through April 19 in the Stephens Gallery.
Artwork from 14 students will be on display in the gallery, which is located in the Walton Fine Arts Center. There will be a reception to meet the artists from 6-7 p.m. on Wednesday, April 19, in the gallery.
Tonya Palmer was selected by the art department to curate and organize the exhibit. Aubree Sisson was selected to prepare and hang the show. Both students worked with a team of other students to complete the work needed to organize and install the exhibit.
"I always enjoy the Student Art Exhibit because it showcases the artwork created by students during the past year," said Tammy Harrington, professor of art. "It is not a requirement that only art majors and minors can participate in this exhibit. Any student can submit artwork to be considered for the show. Tonya and Aubree have worked hard to organize this exhibit. This is a great learning experience for the students."
Palmer called organizing the exhibit "an amazing experience."
"It has helped prepare me for my future as an art educator and artist," she said. "This opportunity has given me a roundabout experience of what it's like to operate gallery exhibitions, and my experience can be integrated into my future school district of employment. I can introduce the gallery setting to my future students and bring this opportunity to many. I have enjoyed my experience and would love to receive this opportunity again so I may gain more experience to improve my skills as a curator."
Sisson said she has learned a great deal in her work on the exhibit.
"It has been both wonderful and a little stressful," Sisson said. "From trying to wrangle together enough art pieces to fill the show to figuring out how to properly display pieces, we've had a full plate. However, I wouldn't change the experience even if I could. This experience is preparing us for not only our future senior shows but also our journey into teaching art and working with students of all ages. Also, getting to see works from students from all levels of art experience; ranging from no formal art classes all the way up to senior art majors, is just incredible. The amount of work that the U of O students put into each piece is just phenomenal."
The students whose work will be on display include, Lillian Bostic, Patrick Brown, John Guthrie, Blanca Almarez Martinez, Azalia Molina, Ana Sofia Camargo Montenegro, Kayla Newman, David Nichols, Palmer, Stephanie Payton, Catherine Ryals, Sofia Sanchez, Willow Stratton, and Sisson.
Topics: Exhibit