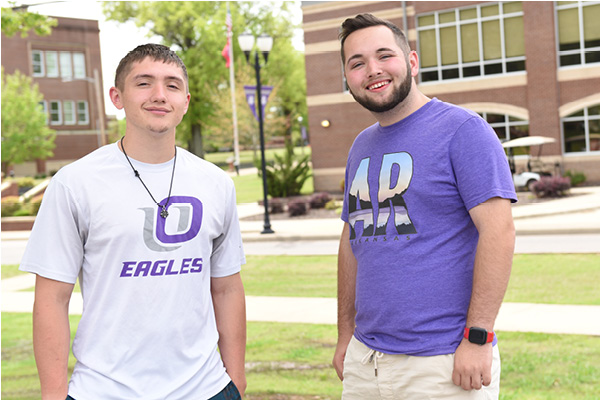 Newly elected Student Government Association (SGA) President Benjamin Stormes and Vice President Garrett Houston can't wait to begin helping their fellow classmates in the fall.
Stormes (pictured, left) and Houston were among several students elected recently to hold leadership positions in SGA for the 2022-23 academic year at University of the Ozarks.
Stormes is a rising junior from Fort Smith, Ark., who is majoring in biology and philosophy. He is a member of Tri-Beta, Eagle Productions and the Ozarks Biological Society. He also is a resident assistant (RA) and a member of the track and cross country teams.    
Stormes said he ran for SGA president to help give students a voice in decisions on campus.
"The main reason I wanted to run for office is because Ozarks students lacked an outlet for their voice," he said. "SGA was created to fill that void, but few people trusted or knew about the organization. That is when I realized I wanted to run for office, to show students that SGA is something they can depend on and voice their concerns to."
Stormes said his goal is "to show students SGA can create change."
"I want to push SGA into the light and make it known to every student," he said. "SGA has passed many proposals, but what ultimately gets proposed is put forth by students. We also want to recognize the importance of clubs and organizations at Ozarks. Not enough spotlight is put on what the different clubs at Ozarks represent and have accomplished. One of the big things SGA is pushing for is a Leader's Banquet to recognize the accomplishments of different clubs and organizations at Ozarks. I enjoy the sense of community for better or worse at Ozarks. It allows for someone to be more connected and involved then they might be at a larger institution. This creates a better sense of community and focuses on the individual."
Houston is a health science and business administration major from Scranton, Ark. The rising senior has been involved with SGA and Eagle Productions and is an RA, Ozarks Experience Mentor and Student Ambassador.
Houston, who plans to pursue a career in athletic training, said he also ran to help his fellow students.
"I ran for SGA because I wanted to be there for the students of Ozarks," he said. "I have always been a big person on helping everyone and anyone, no matter what. I want to be able to continue to do that as vice president of SGA, listening and helping students because that's what matters to me. We want to be the voice for the students, letting everyone know what SGA is, what we have already done for Ozarks, and what we plan to do for the next year."
The SGA members for the 2022-2023 academic year include:
President: Ben Stormes
Vice President: Garrett Houston
Secretary: Marcela Valladares
Treasurer: Youdenie Antoine
Head of Representative Committee: Rachelle Joseph
Natural Science and Mathematics Senators: Stephenique Rose and Jenay Jones
Humanities and Fine Arts Senators: Rosie Wade and Jessica Frazier
Social Science Senator: Cristhian Rodriguez
Rising Sophomore Senators: Gustavo Lugo Medrano and Marifer Mendoza
Rising Junior Senator: Xenia Munoz Maradiaga
Topics: About, Campus Life