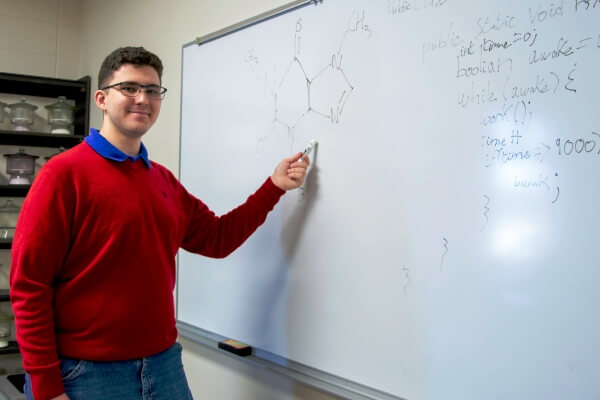 Eric Ledieu just might be the poster student for STEM on the University of the Ozarks' campus.
The junior who calls both Paris, France, and Scranton, Ark., home is a biology and chemistry major with minors in mathematics and computer science. For as long as he can remember, Ledieu has had a passion for STEM, a term that refers to the academic disciplines of science, technology, engineering and mathematics.
"I remember having a subscription to a science magazine at age 6 or 7 and I would read it avidly every month," Ledieu said. "I've always liked learning new things and it just seemed to me that science and mathematics had a more practical application than other things. I saw it as tangible knowledge ? knowledge that would influence how I saw the natural world."
Ledieu's interest in STEM has helped him secure a prestigious paid summer internship with the Arkansas IDeA Network of Biomedical Research Excellence (INBRE), which is funded by the National Institute of General Medical Sciences.
Held on the University of Arkansas, Fayetteville, campus, Ledieu's 10-week research program is titled, "Miniature Biosensors and Bioassays." The project that combines chemistry and technology was one of Ledieu's top choices out of more than a dozen research options.
Junior Eric Ledieu will take part in a 10-week research program called "Miniature Biosensors and Bioassays," on the campus of University of Arkansas, Fayetteville, this summer.
"I was thrilled to get one of my first choices and work in a lab that involves bioanalytical chemistry," Ledieu said. "We're going to be testing materials to see if they are suitable for doing biological tests at a scale between a thousand and million times smaller by volume when compared to our current methods. It has a lot of real-world applications and that makes it very intriguing."
Ledieu, who moved to Arkansas from France when he was 11, was one of only 16 college students state-wide accepted into the INBRE program.
"My professors at Ozarks gave me some great recommendations and helped me through the process," Ledieu said. "It was definitely an honor to get selected because it was a very competitive program."
Ledieu said he has benefited greatly from serving in a work-study position in the University's information technology services department. He works up to 14 hours a week helping maintain the campus computer network and troubleshoot IT issues.
"I've definitely learned a lot more about how the backend of IT works," Ledieu said of his work-study position. "It's been a wonderful experience because I'm working in an area where I'm learning and growing. It's also helped me in areas such as critical thinking and especially with people skills. This job requires me to interact with people more and to be in a professional environment. That's been very beneficial."
According to the U.S. Bureau of Labor and Statistics report, employment in occupations related to STEM are projected to grow more than 17 percent by 2022. The report also stated that 93 out of 100 STEM occupations had wages above the national average.
"I want to one day work in bioinformatics and use data and technology to do biological research," Ledieu said. "The education I'm receiving at Ozarks combined with this summer research project are helping me take another step toward reaching that goal. I feel like all my hard work I've put in over the years is paying off with this opportunity."
Topics: Mathematics