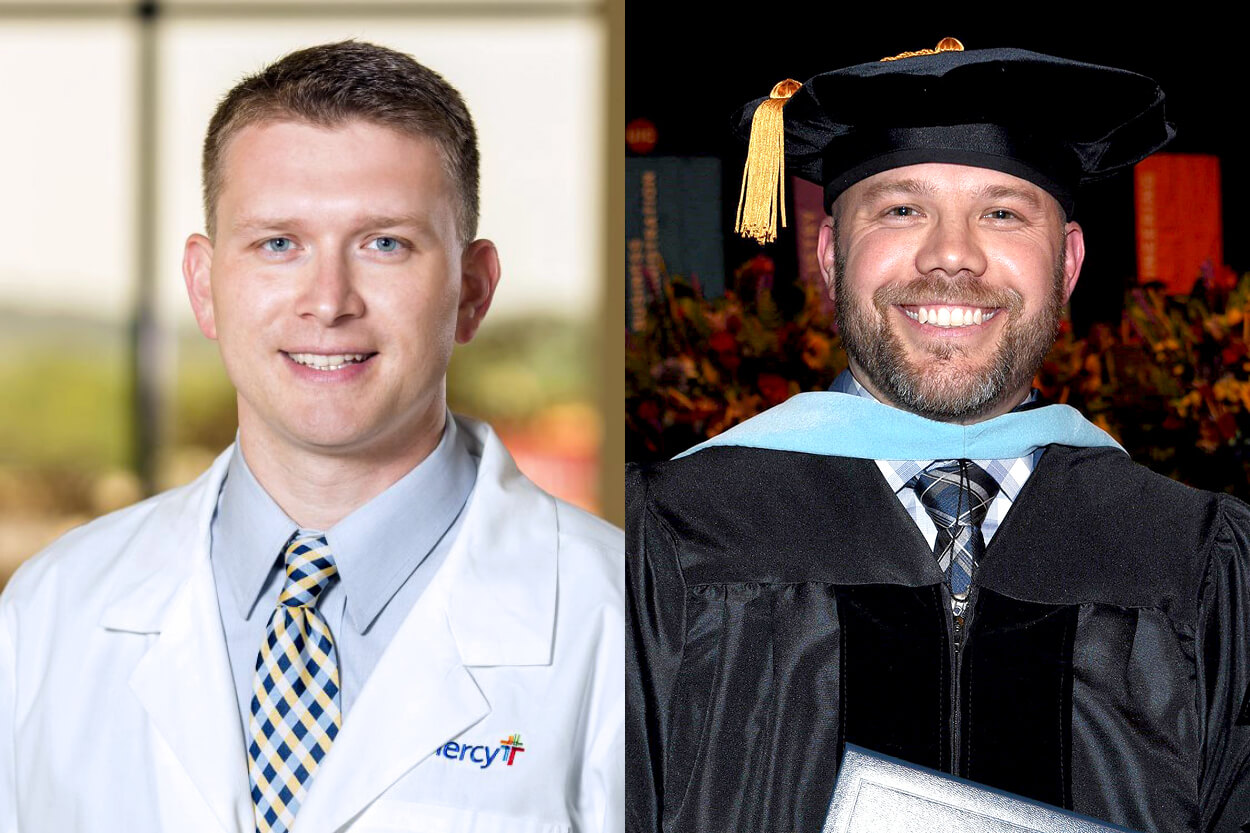 Dr. Eric Steinmiller '02 (right) and Dr. Kendall Wagner '06 have been chosen to receive the inaugural Emerging Philanthropist Award by the University of the Ozarks' Office of Advancement and Alumni Engagement.
The awards will be presented during the Ozarks Awards Ceremony, scheduled for 6 p.m. on Friday, Oct. 18, in the Rogers Conference Center. The ceremony is part of Homecoming Week 2019.
The Emerging Philanthropist Award is a newly established honor by the University to recognize individuals age 40 or under who have demonstrated a record of exceptional generosity in support of Ozarks' mission and who have inspired others to give similarly.
"We appreciate our many supporters and we've always recognized and honored them in a variety of ways over the years, but we've never had a specific award for our younger donors," said Lori McBee, vice president for the Office of Advancement and Alumni Engagement. "This award will allow us to recognize our younger alumni supporters who have demonstrated a commitment to Ozarks and to our students. Eric and Kendall exemplify the type of community-minded, philanthropic young alumni we had in mind when we created this award."
A 2002 graduate of Ozarks, Steinmiller is an educator and school administrator. A native of Arkadelphia, Ark., he has served as a teacher and administrator in Texas, Louisiana and Illinois, where he is currently an assistant principal at Theodore Roosevelt High School in Chicago. His vision is to create professional learning communities that use data to inform instructional practices, student achievement and student interventions. Steinmiller earned a master's degree in art history from the University of North Texas and an Ed.D. in urban education and leadership from the University of Illinois at Chicago. He and his wife, Jaclyn, reside in Chicago.
Wagner, who graduated from Ozarks in 2006, a primary care physician in Fort Smith, AR. A native of Waldron, Ark., Wagner was the recipient of the University's Hurie Award in 2006 as the outstanding member of the senior class. He went on earn his medical degree from the University of Arkansas for Medical Sciences (UAMS). He completed a residency program in internal medicine-pediatrics, leading to specialized board certification in both adult and pediatric care. He and his wife, Kathie, have two children, Averie and Grayson. Wagner remains an active supporter of Ozarks and also serves on the board of the Harvest Time Kids Academy. The Wagners are active in their church and are ardent supporters of Christian education.
To purchase tickets to the Ozarks Awards Ceremony or for more information on Homecoming 2019, please contact the Office of Advancement and Alumni Engagement at 479-979-1234.