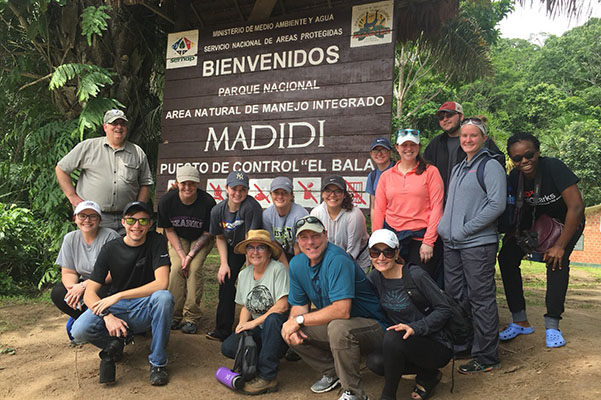 With colorful macaws flying in formation overhead, the growls of howler monkeys echoing through the jungle and surrounded by walking palms — Tolkienesque trees that get its name from its tall, spiny root system that looks like multiple legs — Cherokee Gott found herself in disbelief as she stood in the rainforest of the Bolivian Amazon.
"I kept thinking over and over, 'I can't believe I'm here right now,'" said Gott. "I'm from a small town in Oklahoma and I had never even been on a plane before, much less travelled outside of the United States. This was all so new and exciting to me."
Gott was one of 15 University of the Ozarks students and faculty members who took part in a 15-day study abroad trip to Bolivia and Peru in January. The trip was the capstone of a multidisciplinary Fall 2017 Semester class — Study Abroad: Bolivia and Peru — that examined the culture, language, history and agriculture of the region.
The upper-level class was taught by Dr. William Clary, professor of Spanish, and Dr. Kim Van Scoy, professor of environmental studies and sustainable agriculture. The highlights of the trip were visits to the Madidi National Park in the Bolivian Amazon, the highlands of the Andes Mountains and the World Heritage site of Machu Picchu.
Like Gott, a sophomore environmental studies major from Claremore, Okla., it was the first significant trip abroad for several of the students on the trip.
"When the plane took off from Miami, that is when it really hit me that I was doing what I had always dreamed of doing since I was a kid; I was travelling the world," Gott said. "The whole trip, from the time we landed in La Paz, Bolivia, to flying over the Andes Mountains, hiking in the Amazon and standing on top of one of the Seven Wonders of the World at Machu Picchu, was an amazing adventure. It was extremely difficult to convey my thoughts in my journal because I could not come up with the words to explain the uniqueness and beauty of the land, people and experiences."
Clary, who has organized and led numerous study abroad trips to Central and South America, said students learn on multiple levels during a trip like this.
"Certainly exposure to societies and cultures with complex economic challenges gives them needed perspective on how most of the world lives," Clary said. "Student growth also occurs as they begin to understand that traveling like this is feasible, that one can do these kinds of trips without the guiding hand of a travel agency. Finally, by experiencing Bolivian and Peruvian culture up close in different contexts, students acquire both knowledge and deeper understanding of intercultural differences and historical traditions outside the United States."
Van Scoy added that a trip abroad is the ideal "cure for racism and prejudice."
"I think the students who travel to Latin American countries learn first-hand how generous and gracious our neighbors to the south are," Van Scoy said. "In Bolivia, we were shown tremendous generosity from the second poorest country in the hemisphere. Lessons like that stick with students."
Bordering Peru, Madidi National Park encompasses an area of 1.9 million hectares of South American rainforests, glaciers and Andean peaks. With more than 1,000 bird species, 12,000 plant species and 2,000 vertebrates, it is considered one of the most biodiverse spots on Earth.
The Ozarks contingent spent four days and three nights staying at an indigenous eco camp deep in the Madidi rainforest—a six-hour boat ride from the nearest city. Local guides led the group on several educational treks through the jungle.
"To experience life in the jungle and to see and learn about all of the different plants and animals was an experience I will never forget," said Deborah Sebagisha, a sophomore chemistry major from Rwanda. "It was definitely a once-in-a-lifetime experience."
One of the highlights of Madidi was an opportunity to visit a remote, off-the-grid indigenous village in the Amazon rainforest, the Quechua-Tacana community of San Jose de Uchupiamonas. The group toured the village and was invited to have lunch with a local family.
"I learned that the happiest people in the world are the ones that seem to not have a lot. The perfect example of this would be the members of the indigenous village," Gott said. "Our guides were amazing and they always seemed to be smiling and joyful. When we visited the village, the people were extremely friendly and welcoming."
Sebagisha agreed that the visit to San Jose was impactful.
"The people of the village didn't have a lot, but they wanted to share the little that they had," she said. "I would describe them as a very humble and charitable community. I learned from that community about sharing and caring with no limits and discrimination."
A visit to the lost Inca city of Machu Picchu, high in the Andes Mountains, was another high point of the trip.
"Machu Picchu has always been a place that I have wanted to visit since high school and never in a million years did I imagine that I would visit as a college student," said Rebeca Silva, a junior Spanish major from Rockwall, Texas. "To learn about it in class and then to actually get to see it in person was amazing."
Silva said the entire trip "broadened my horizon on the way I view life and the world."
"Every place we traveled to changed me in a different way and opened my eyes," Silva said. "From experiencing a different way of life and culture, I grew to be more appreciative of the things that I feel are taken for granted in America. Something as simple as a free public restroom, with toilet seats, is something that I now feel grateful to have. This trip was very much a humbling experience for me and I feel blessed with all the lessons, memories and experiences that I have taken and made from it."
The trip was not without its difficulties. Nauseating altitude sickness, painful insect bites, uncomfortable overnight bus trips, frustrating visa issues at the border and pesky 3 a.m. wakeup calls were a few of the minor inconveniences the group faced. There was even plane mechanical problems that delayed the return home two days.
"This was a very challenging trip and the students were often outside of their comfort zone," said Van Scoy. "The altitude was challenging and several were impacted. Through it all, they remained in good spirits and were enthusiastic about their opportunities. I don't think there was a single person who participated on this trip that didn't grow personally."
For Hailey Godfrey, a junior health science major from Salem, Ark., her first trip abroad was eye-opening.
"This trip helped me realize all of the steps that are involved in traveling abroad," she said. "It is not an easy process. The most important lesson I learned was to be patient. Not everything on an abroad trip is going to go perfect.  We had a couple of hang ups, but it helped me understand how to be patient when things were not in our control. Even with the difficulties, it was an incredible experience."
Most of the students received assistance to pay for the trip through the King Endowment for International Study, a University fund established by the estate of Virginia L. King to help Ozarks students who want to study abroad.
"To see first-hand how gracious people are and to experience the unique sights, sounds and smells of a foreign country is just incredible," said Kole Smith, a senior biology major from Canehill, Ark. "This trip has given me the confidence and desire to travel abroad more and to see different parts of the world and I'm thankful that the King Endowment gave me this opportunity."
For Gott, her first trip abroad has motivated her to begin plans to spend a semester during her junior year studying abroad in Chile.
"I knew I needed to experience travelling with a group first before I started thinking about going somewhere on my own," Gott said. "Whoever says that travel is over-rated needs to open their minds and broaden their horizons. The world is so much bigger than the United States and it is definitely worth seeing. There is so much to learn about and so many amazing people and places to see. I cannot wait for my next adventure."
Topics: About, American Studies, Environmental Studies, Spanish, Study Abroad, Sustainable Agriculture