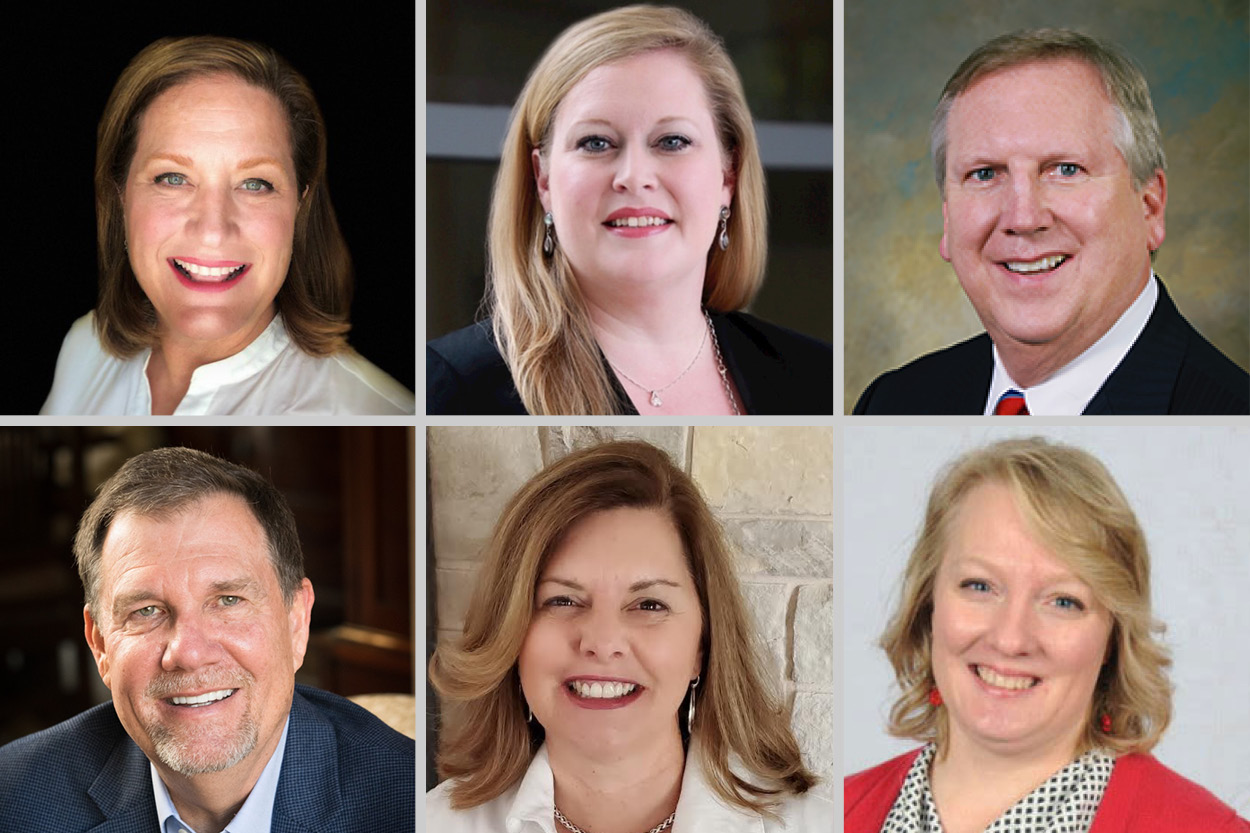 The University of the Ozarks' Board of Trustees elected six new members to the board during its annual fall board meeting, held Oct. 8 on campus.
The new members who will begin their three-year terms on Jan. 1, 2023, include (top row, from left), Shannon Huggins '91 of Arlington, Texas; Kendra Akin Jones '01 of Springdale, Ark.; Allyn Donaubauer of Fort Smith, Ark.; (bottom row, from left) Chris Broadway of Colleyville, Texas; Beth McGaw of Dallas, Texas; and Rev. Tasha Blackburn of Fort Smith.
In addition, Susan Pinson of Edmond, Okla., and Sue Tull of Little Rock, Ark., were elected to a second, consecutive three-year term. The officers for 2023 will include, Pinson as chair, Donaubauer as vice-chair and Mike Powell as secretary.
Huggins, a 1991 Ozarks graduate, is the senior vice president, contract strategy and population health, of Methodist Health System in Dallas, Texas. She began with Methodist in 2002 and has system responsibilities for contracting and payor relations on behalf of Methodist.  She has more than 25 years of experience in contracting, payor relations, population health, financial analysis and decision support. She has been active in the Ozarks Alumni Association and is a past president of the Alumni Board. She and her husband, Bryan, have two sons. She has a master's degree in health care administration from Texas Women's University. She is also a board member for Methodist Rehabilitation Hospital and Texas Rehabilitation Hospital.
Akin Jones, a 2001 Ozarks graduate, is the assistant general counsel for environmental issues for United States Steel, based in Pittsburgh, Penn.  In her role, she manages the team of environmental lawyers overseeing and advising the company on environmental matters. She has a diverse background in covering topics from litigation, to regulatory, sustainability and policy. Prior to joining U.S. Steel, Akin Jones was in roles as senior counsel environmental for Tyson Foods, Inc., and director senior counsel for litigation and contingencies for Windstream Services, LLC. She started her legal career in the Arkansas Attorney Generals' Office.  She is a member of the Arkansas Bar Association, the Federation of Defense and Corporate Counsel and the Association of Corporate Counsel. She and her husband, Ben, live in Springdale and have two daughters. She earned her law degree from the University of Arkansas School of Law in Fayetteville in 2004.
Donaubauer has been a financial advisor for more than 40 years. As a chartered retirement planning counselor, he has in-depth knowledge of the needs individuals face both before and after retirement. He is also a certified financial planner practitioner. Donaubauer, who has a bachelor's degree and an MBA from the University of Arkansas, first joined the Ozarks board in 2001 and has served as ex-offio on the University's Endowment Committee.  He also serves on the boards at the We Care Foundation, the Bost Foundation and Children's Emergency Foundation.
Broadway worked 34 years in the energy industry before beginning a new career in real estate at EXP Realty serving North Texas. Broadway and his wife, Cathy, are the parents of 2016 Ozarks alumna Elizabeth Broadway Conley. The family established a named endowed scholarship for JLC students when Elizabeth graduated. Cathy is a retired RN and school nurse. The Broadways also have a son, Kyle. Broadway earned a degree in petroleum land management from Texas Tech University.
McGaw is an independent educational consultant and her experience working with youth and young adults in transitioning from high school to college or college to work spans 20 years. She has experience assisting young adults diagnosed with learning disabilities (LD), ADHD, and high-functioning autism. She is an active member of Learning Disabilities Association of America and currently serves on the Board of Managers. She served as president of the Learning Disabilities Association of Texas in 2017-2018.  McGaw and her husband, Steve, have three grown sons.  Their youngest, Bradley, is an Ozarks alumnus of 2020.  McGaw has a bachelor's degree in industrial engineering, University of Cincinnati, a master's degree in adult education from University of Missouri–St. Louis and a college admissions counseling professional certificate from University of California, Riverside.
Blackburn, who previously served consecutive three-year terms on the board from 2016-2021, has been an ordained ministry since 2002. She and her husband, Rev. Phil Blackburn, became co-pastors at First Presbyterian Church in Fort Smith in 2012. She has also served churches in Illinois, Indiana, and Scotland. She has a bachelor's degree from Illinois College and graduate degrees from Austin Presbyterian Theological Seminary and University of Edinburgh's New College in Scotland. Blackburn also serves on the board of the Fort Smith Boys Club and Vera Lloyd Presbyterian Family Services.
In related action, the University's board voted to appoint a member of the alumni board to serve as an ex-offcio, non-voting member of the Advancement & Alumni Relations Committee. George Pittenger '91 of Cleburne, Texas, was selected to serve as the ex-offcio member of the board.
Those rolling off the board on Dec. 31 include, Arvid Bean '78, Dr. Jim Bruning, A.O. Curran, Ann Patterson '75, Dr. Sherilyn Poole, Peter Van Dyke '87 and Dr. Ed Wilkinson.
Topics: About