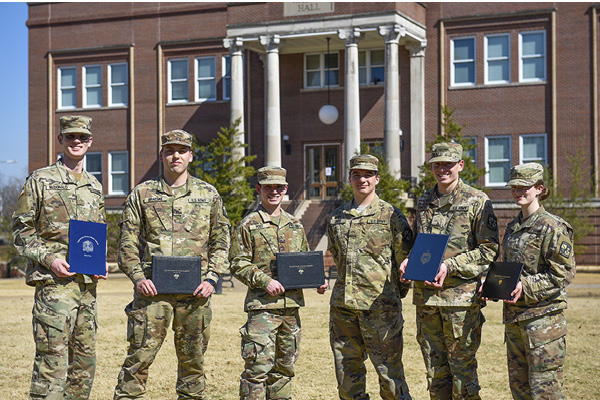 For six University of the Ozarks students, a recent phone call or email brought momentous news.
The six students are part of the University's Greystone Preparatory School and the news they received in recent weeks were long-awaited appointments to one or more of the country's military service academies. Those students are (pictured, from left) Lee McDonald of Kerrville, Texas; Ike Braeske of St. Louis, Mo.; A.J. Post of Altus, Ark.; Corbin Endre of Wilmington, N.C.; Matthew Yonkers of Sayville, N.Y.; and Ellery Doyna of Austin, Texas.
Greystone is a college-level academy prep school that prepares students for nomination, appointment and success at one of the country's five military service academies. Greystone moved to the U of O campus in 2020 after spending the previous 16 years in Texas.
Doyna received her appointment to her first choice, the U.S. Military Academy at West Point, several weeks ago. She found out the news through a phone call from Arkansas Sen. Tom Cotton while sitting in Greystone Commander David Bailey's office with some of her fellow Greystone students.
"Commander Bailey told me I had a call to help with recruiting, so we were just waiting in his office," Doyna said. "I thought it was kind of weird that we were all just sitting there waiting, but I just thought the candidate was someone important. When the phone rang, I was preparing to talk to a prospective Greystone candidate, but it was Senator Cotton and he told me that I got accepted into West Point. I burst into tears. I don't even remember what he said after that because I was so overwhelmed with happiness. I immediately sprinted to my room, picked up the phone and called my dad. He won't admit it, but I think he was also crying."
Doyna spent the next several hours sharing the good news with family and friends.
"I called just about everyone who has helped me along this journey," she said. "My favorite call was to my best friend's mom. She was teaching a class and burst into tears when I told her the news. Making those phone calls was so rewarding. I didn't really realize how many people I had rooting for me until I physically had to call each and every one of them. To celebrate, my boyfriend, who is at the Air Force Academy, and I are going to New York City this spring break to see my family and my friends who go to school in New York."
Post was accepted into West Point and the Naval Academy and is waiting to hear back from his first choice, the U.S. Air Force Academy.
"It has been my dream to attend a service academy since I was about 10 years old," Post said. "As a young boy, my interest was piqued by military equipment and military history, so having the opportunity to experience those types of things as an academy cadet is amazing. There have been many people in the military that have mentored and guided me on the path that I am currently on, and to be able to follow in their footsteps and serve the country and community that I love is a great honor."
Post credited both Greystone and U of O for helping him earn academy appointments.
"Greystone has been instrumental in preparing me for the academies and my future career as a military officer," Post said. "It has pushed me to the limits to make me the best possible candidate I could be, and I truly believe that the experiences and friendships that I have established here will last a lifetime. Ozarks has also helped significantly to prepare me for the academies. Here, professors are very helpful and the class sizes are usually on the smaller side. Both of those aspects are characteristic of the academies."
Yonkers also received appointments to both West Point and the Naval Academy, where he plans to enroll. He said attending a service academy has been a long-time goal.
"My aspiration to serve was initially sparked when I was a Cub Scout, and my troop took a trip to Calverton National Cemetery to place flags on the graves of fallen soldiers," Yonkers said. "As we placed flags, I began to ask myself who these people are and why they are significant?  I started researching the military and was introduced to a retired vice admiral, who shared his experiences as a midshipman, Naval Academy professor, and career as an officer commanding the U.S. submarine fleet. His stories led to my discovery of the service academies and the opportunities they presented. I am inspired to follow in his footsteps and pursue a career in the Navy, leading and developing future leaders."
Braeske learned of his appointment to West Point by checking the academy's portal one late night over winter break.
"I saw a big green box that said 'Congratulations,' and my initial reaction was shock and then denial," he said. "I wasn't at all prepared to celebrate, because best-case scenario, I thought I might hear back from the academies in March or April. But I started waking up everybody in my house to share the news with, and I tried to call a lot of my friends, but most of them were asleep."
McDonald earned an appointment from the Merchant Marine Academy and is waiting to hear back from the other academies, inmcluding his first choice, the Air Force Academy.
"I've always wanted to fly and I can't recall a time where I haven't wanted to be an Air Force fighter pilot," McDonald said. "In middle school, I met an academy graduate and realized that the Air Force Academy was the premier place to become a fighter pilot."
Endre received his appointment to West Point, and is hoping to hear the same good news soon from his first choice, the Naval Academy.
"I decided that I wanted to go to one of the academies about two and a half years ago, as the best possible route for military service," Endre said. "I believe that Greystone has absolutely helped me in my application, especially in my fitness and study habits. I believe as well that U of O has helped me greatly in my understandings of chemistry, calculus, and statistics, all critical for the STEM focus I intend to pursue at the academy and in my military career."
Doyna also said Greystone helped her reach her dream goal.
"I will honestly say that I would not be the person I am today without Greystone," she said. "It has helped me grow, and more importantly, has made me want to grow. By no means is the program easy, but the Baileys and my fellow Greystone classmates make it worth it. I have been equipped with a series of professional skills, ranging from interview skills to simply how to pay attention to details on documents, and I wholeheartedly owe this to the rigorous environment within Greystone and the opportunities that the program has given me to grow. Greystone teaches you resilience in the best way, because quite literally, the program is built to help you learn from your mistakes and grow towards your goals. I will say that I earned my appointment through my hard work, but Greystone has been the guide throughout the journey."