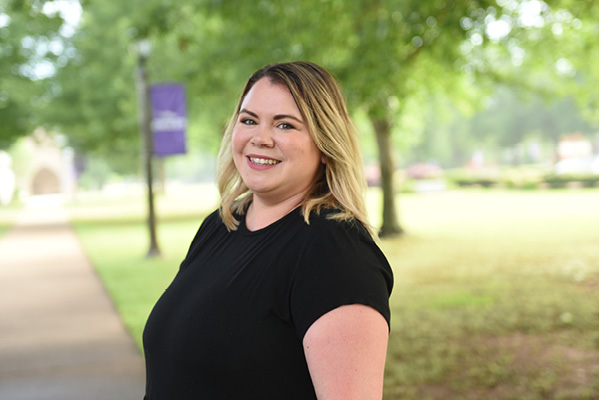 Nichole Sherman has joined the University of the Ozarks' Office of Student Affairs as the new director of student engagement.
Sherman, who started at Ozarks on June 1, will be responsible for planning, implementing and assessing major campus events and traditions to promote the retention and persistence of Ozarks' students. She will oversee the areas of student activities, new student orientation programs and student organizations.
"I don't have the words to describe how thrilled we are to have Nichole start as the director of student engagement, and I am excited to see what new programs she is planning for next year," said Terri Thomas, dean of students.
Sherman most recently served as the area coordinator for the residential apartment facilities at Austin College in Sherman, Texas, since 2019. She was also the residence life coordinator at Texas A&M at Texarkana from 2012-2015 and served as a hall director at her undergraduate alma mater, Centenary College in Shreveport, La.
"I am honored to be part of the Ozarks community that supports the overall development and growth of the student," Sherman said. "The University has a legacy of empowering students to identify their passions, provide a foundation, and entering the world confident and prepared to make an impact wherever they decide to go."
Sherman said in her new position she hopes "to engage all students to encourage personal development, embrace diversity, and foster an environment of inclusivity."
"My goal is to collaborate with students, faculty and staff to create a dynamic student experience that impacts student success, retention, and the overall mission of the University."
Sherman was born and raised in Texarkana, Texas, before going on to earn her bachelor's degree from Centenary and a master's degree in student development and leadership from Angelo State University in Texas.
She and her husband, Justin, have two daughters, Harper (6) and Riley (4). She enjoys traveling to different water parks with her family, dancing, and gardening.
"We spend most of our free time seeking adventures and new experiences as a family," she said.
Topics: About, Student Events, Student Life