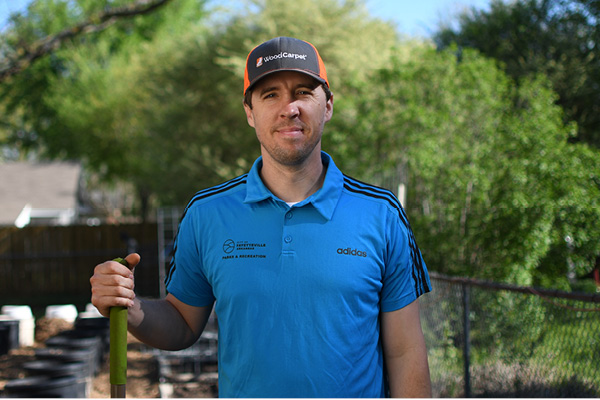 Darrell Shaw III has been named the new director of Ozarks Outdoors, the outdoor education and recreation program at University of the Ozarks. He will begin his new duties on Oct. 1.
A native of Lamar, Ark., Shaw served as director of outdoor education and recreation at Lyon College in Batesville, Ark., from 2013 to 2018. Since 2018 he has been the program manager for the Parks and Recreation Department in Fayetteville, Ark., where he helped create a nationally-recognized community outdoor recreation program, Outdoor Fayetteville.
"Working for Ozarks Outdoors is my dream job," Shaw said. "I am very excited about the opportunity to share my passion for experiential education, student development, traveling and adventuring with the students at U of O in my hometown. Arkansas is such a beautiful place and there are so many amazing places to explore. My vision for the program is to provide numerous opportunities for students to recreate outside through outdoor adventures and intramurals, while also providing student leadership opportunities for the student staff. I want to foster a space that is welcoming and open to all.":
Shaw replaces Bendex Stevenson, who stepped down from the position this past summer to pursue other opportunities.
Shaw earned his bachelor's degree in recreation and sport management from the University of Arkansas in Fayetteville and his master's degree in recreation and sports administration from Western Kentucky University.
He said his favorite thing about leading students on outdoor adventures is "getting someone out of their comfort zone and trying something new."
"It is so rewarding seeing someone discover something they become very passionate about after taking that first step and trying it for the first time," Shaw said. "Life is all about relationships and trying new things. Extended trips are the best. When you get a group to commit to spending five-plus days and nights together, it really gets to be fun when people open up and let their guard down. I have so many great memories with students, of all different backgrounds and skill levels, adventuring in places all across the world. The skills, experiences and relationships developed on these types of trips are those that a person will enjoy for a lifetime."
At Lyon, Shaw helped develop the college's outdoor leadership program, managed the intramural program, taught academic classes in outdoor leadership and recreation, and oversaw a bike shop that served the campus and community.
He is a member of the Association of Outdoor Recreation and Education (AORE) and is certification and training in SOLO Wilderness First Responder, Single Pitch Instructor Training and ACA Swiftwater Rescue Class III.
Shaw enjoys climbing, cycling, camping, paddling, photography, fishing, hunting, sports, gardening and building things. He and his wife, Samantha (Sammie), met in grad school at WKU, where they were both graduate students. Samantha has a master's degree in sport and recreation management. She homeschools the couple's three children, Lily, Norah and Amos.
Topics: About, Campus Life, Outdoors, Student Life