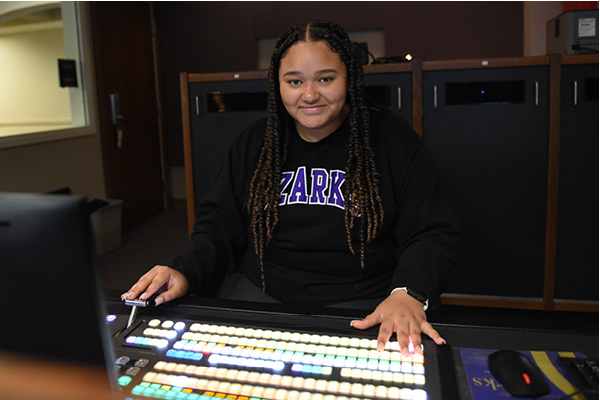 "There is no greater agony than bearing an untold story inside you." — Maya Angelou, poet.
When asked why she loves the field of communication studies, University of the Ozarks senior Sade Seymour quickly points to her passion for storytelling.
"I know it's sort of cliche but producing content and storytelling is the only thing I've ever wanted to do," she said. "I feel like we are all made up of stories that deserve to be told and I truly enjoy telling stories that matter. Multimedia is so powerful and when used in the right way, it can change lives, create awareness and bring people together who would've otherwise never connected."
Seymour, who will graduate in May, said she first learned about Ozarks when a recruiter from the University came to her hometown in Nassau, The Bahamas, and showed her graduating class a video of the campus and facilities.
"As I watched the video from the media booth, I simply felt like Ozarks was where I wanted to be, especially after seeing the production studio in the video," Seymour said.
Since her sophomore year at Ozarks, Seymour has been heavily involved in media production through the University's television station, KUOZ, gaining invaluable hands-on experiences. She has worked on and produced livestream events ranging from weekly news shows to sporting events to community Christmas parades to graduation ceremonies. She has also taken part in numerous internships and workshops and worked closely with professional film companies that came to campus to film marketing video.
"Since my sophomore year, I have immersed myself in whatever opportunity that was presented to me," she said. "All of these opportunities have helped me in my holistic development. I interned with both the career services and marketing departments on campus. During these internships I was able to sharpen my professional skills while producing a podcast series that provided advice for Ozarks students while my digital marketing internship allowed me to pursue my personal project of highlighting stellar Ozarks students while also allowing me to make connections with a film company in Florida. All of my experiences have prepared me to pursue ventures in digital and social media marketing."
She said one of her favorite experiences at Ozarks was working as a producer for KUOZ on the in-studio show In Focus.
"I was able to anchor the broadcast magazine as well as produce some of the segments that were aired," she said. "I got an in-depth look into how studio productions work and this gave me the assurance I needed to convince me to pursue a career in digital producing and journalism."
Seymour said her media production track in communication studies has prepared her for a career in communications, while her minors of English and biology have helped make her a more well-rounded student.
"Media production has been very comprehensive and offered courses in all aspects of multimedia that I believed will benefit me in my career prospects," she said. "My mom had always told me that I would be a writer, and I would brush it off because I knew that I enjoyed writing but I didn't believe it would contribute to what would be my future career. Pursuing a minor in English just seemed natural for me, and I picked biology because I was always interested in the way the human body works."
Seymour credited Susan Edens, associate professor of practice in communications, for noticing "a lot of my potential before I did."
"She would constantly keep me informed of different opportunities that could help in my production experience outside of the classroom," Seymour said. "She helped me gain my work-study position with the athletics department, which in turn has allowed me to sharpen my skills not only in studio broadcasting but sports broadcasting and journalism as well. She is the true definition of professor, advisor and mentor, all in one. She provides me with not only professional advice, but general life advice as well."
Seymour said she is sometimes amazed about how much she has grown in her four years at Ozarks.
"I've met so many different individuals from all over the world that have shared experiences with me and given me entirely new perspectives in life," she said. "I've matured in ways that I don't believe I would have if I had gone anywhere else. I left a small island to attend a university in rural Arkansas, and it changed the trajectory of my life for the better. Through my time here, I've gained a sense of confidence that I did not have before. I've always been sort of introverted and never wanting to push myself out of my comfort zone. However, Ozarks has given me that subtle push that I needed to reach and recognize my full potential."
Seymour plans to attend graduate school at University of Missouri in Columbia to pursue a master's degree in journalism in order to hone and develop her multimedia and storytelling skills. She then hopes to land her dream job as a lifestyle or infotainment producer in reality television.
"I've always been an avid watcher of channels like TLC, Food Network, HGTV, and Discovery and shows like 90-Day Fiance, Cake Wars and Cake Boss," she said. "I would love to produce lifestyle segments, cooking shows or competitions, or even reality dating shows. I don't see this as an immediate job pursuit, but definitely something I want to spend a number of years working in in the future."
Topics: About, Communication Studies, Media Production, Student Stories