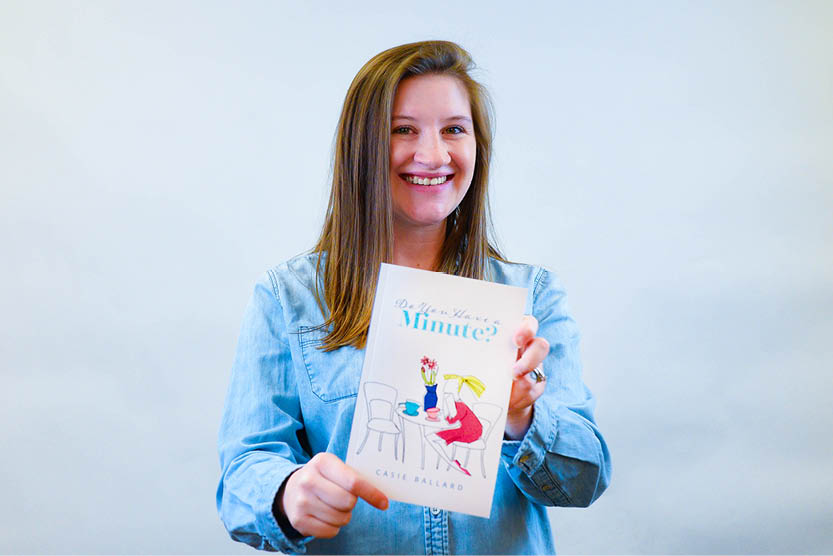 The vulnerable life of a small-town girl with big-time faith.
That's how University of the Ozarks senior Casie (Zapf) Ballard of Cabot, Ark., succinctly summarizes her new book, "Do You Have a Minute?"
Ballard, an English and business administration major who will graduate with honors in May, wrote the self-published book over the past two years. The book is a self-reflecting journey on how she has used her Christian faith to learn and grow from various experiences and events in her young life.
"I use my Christian faith and God's word to learn life lessons that come from these events," Ballard said. "It is a Holy-Spirit filled book that is written to inspire and to change the lives of those that read it."
Ballard will have a book-signing event in the Ozarks Exchange store on campus from 3-4 p.m. on Monday, Feb. 8, 2021.
Ballard said she wrote most of the book during the summer before her junior year at U of O (2019) when her then-fiance and now-husband, Kaleb, was going through basic training in the Air Force.
"I had a lot of time on my hands and I had always wanted to write a book," Ballard said. "I come from a very supportive family and group of friends that encouraged me. My inspiration for the book was thinking back on all the times that God has shown up in my life. It seems unfair of me not to share that with others and let God's glory shine through my words."
The book became available online on her birthday, Dec. 13. She received the first hard copies of her book just days before Christmas, which led to a memorable gift-opening experience with family members who did not know Ballard had written a book.
"The most difficult part of publishing this book was waiting for proofs and hoping my book would come in in time for Christmas," Ballard said. "The order date said it would not be in until December 30th, but my Christmas miracle came true when they were delivered on December 23rd and I was able to surprise my family with a copy for Christmas. The most enjoyable part was giving my book to my mom. She has supported me through this whole adventure, but I managed to keep the publication a secret until I was able to surprise her."
Ballard said her mom's reaction to seeing the book was "priceless."
"She took it out, clearly confused, and stared at the book," Ballard said. "She read it over and when she saw my name on the cover, she shot her glance my way and then showed my grandma. My grandma looked it over and then asked if this was real. My family quickly wanted to know what was going on and my grandma told them all that it was my published book. Everyone was very excited and that started a few minutes of celebration and questions. It was a perfect Christmas."
Ballard said while writing the book, she tried to get into the habit of completing at least three chapters a week.
"When God is helping inspire the words, it comes naturally," she said. "The writing process was not as strenuous as I had anticipated."
In "Do You Have a Minute?", Ballard touches on a number of personal experiences that she believes others can relate to.
"I talk about a time that I babysat two little girls and how through their innocence, God taught me what it meant for Him to be our protector," she said. "I talk about how life as a military spouse has its lonely times, but that God is our comforter and provider. I also mention a time that I was driving to the Ozarks from my home and how God gave me a message that I will carry with me for the rest of my life."
Ballard published the book through BookBaby, a self-publishing, print and distribution company. A Student Enrichment Fund grant from the University helped fund the project.
"The self-publishing process was great," she said. "I simply sent in my work, had it edited, proofed those edits, and made changes and then it was ready for publication. I also utilized a cover design that worked under the same process. BookBaby made this very easy for me to get this done in a timely manner and the Student Enrichment Fund aided in the cost of publication. It's not a cheap endeavor to take on and the enrichment fund allowed me to take some of the financial stress off my back. It made this dream possible for me."
Ballard said she enrolled at Ozarks planning to major in business but that her English classes convinced her to add another major.
"I was all set up for a business degree because I also aspire to own a coffee shop one day," she said. "[Professor of English] Dr. Brain Hardman, who I first met as my academic writing professor, told me that the potential I had in the English field was too much to not major in it. So, I decided that I could do both and here we are. Dr. Hardman has a lot to do with why I took the leap to double major and continue my English education. I have always wanted to be an author and I love reading. so I knew I wanted to be an English major."
While a second book is in the plans, the most immediate project is her English senior thesis, which will focus on Margaret Atwood's "The Handmaid's Tale."
"I am studying how the society that she has created, Gilead, is structured and how when a group of people live in that kind of way it is devastating to the society as a whole," Ballard said. "I focus on the restrictions of women in the novel. Specifically, I discuss how the women interactions, male power, and female oppression all play together to create a message that Atwood is sending to her readers: A world in which women are stripped of their power and dignity is a world that will fail itself repeatedly."
The self-described Christ-follower, college student, wife and author is about to add another descriptor to her title — mother. Ballard and her husband Kaleb, a junior health science major at Ozarks, are expecting their first child in April. Her plans following graduation are to pursue an MBA and begin working on her second book.
"Ozarks gave me the encouragement and support to get this project done," Ballard said. "They gave me the skills and patience to write, rewrite, and rewrite again my chapters until they were exactly as they should be. The Ozarks taught me to never give up on my dreams. The community here shaped me into the person I am today."
"Do You Have a Minute?" is available as an Ebook or can be purchased online as a hardcover book, starting Feb. 8, at Barnes and Noble, Amazon, BookBaby and other retailers. It will also be available in the Ozarks Exchange store on campus.
Topics: About, Business Administration, English, Student Stories