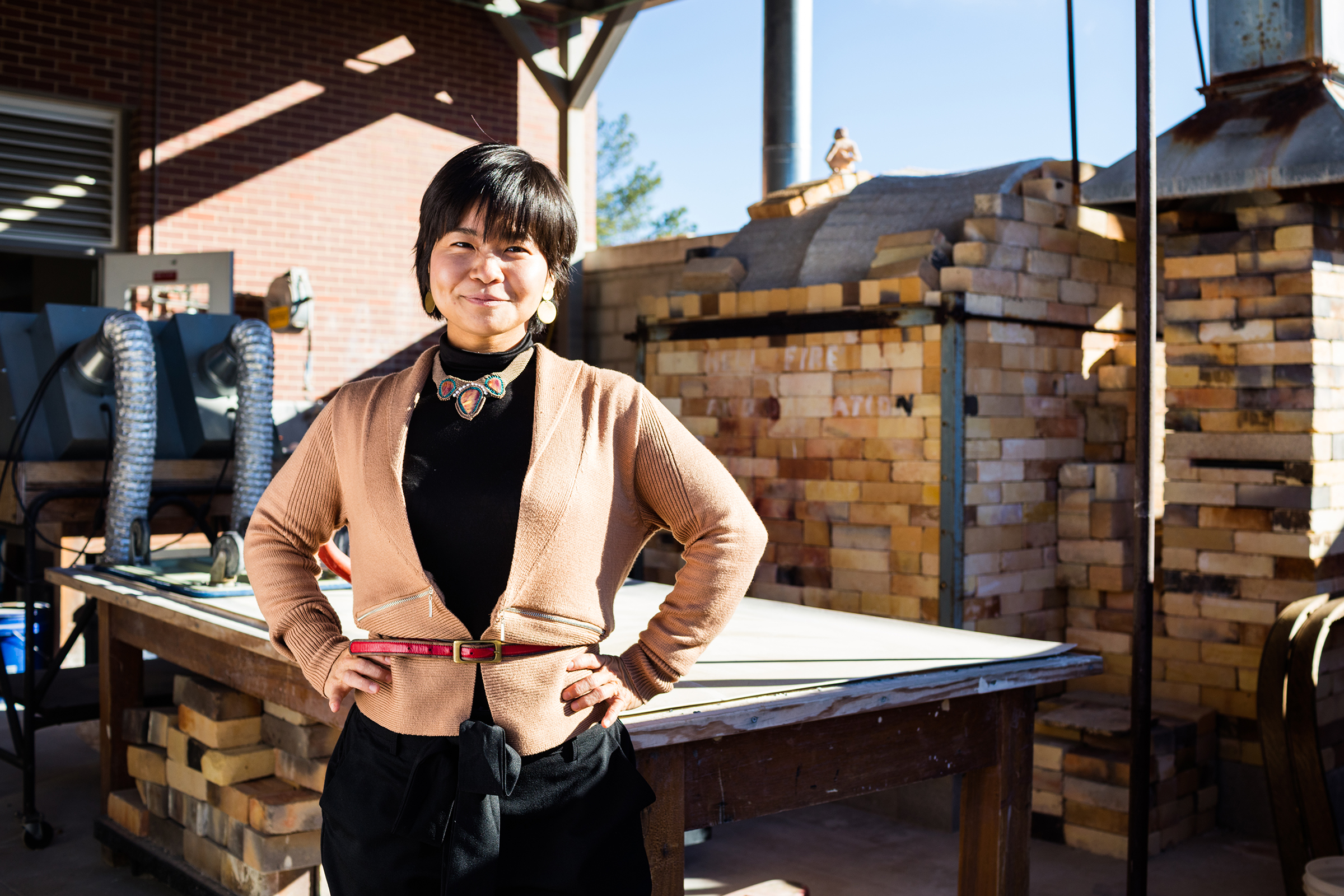 Tokyo-born sculpture artist Manami Ishimura will present her art show, Scale/Tension, in the University of the Ozarks' Stephens Gallery through Feb. 17 as part of the University's Artist of the Month Series.
There will be  reception to meet Ishimura from 5-6 p.m. on Monday, Feb. 7 in the gallery, which is located in the Walton Fine Arts Center.
Ishimura currently serves as a visiting professor of sculpture at Arkansas Tech University.  She received her BFA degree in sculpture at Tama Art University in Japan, and graduated with an MFA degree in sculpture and ceramics at Texas A&M Corpus Christi in 2018.
Ishimura said she strives in her artwork to depict the ephemeral beauty of moments which generally go unseen.
"When I practiced meditation at a temple in Lamphun, Thailand, my conscious mind left my physical element," she said. "In that moment, only breathing connected my body and my consciousness. My experience living in other countries has made me more aware of this kind of moment, and of the liminal states that exist between consciousness and body, between myself and others, and between inanimate elements and living organisms. All of this reflects the ephemeral life of beauty, as in that quiet but profound moment of breathing at the temple."
She said that her exhibit, Scale/Tension, is a series of sculptures inspired by the aesthetics of observation in cultures.
"The series of Tension is inspired by the practice of stonemason," Ishimura said. "When stonemason carve a stone, they explore the points to meet a 'life' in a 'void' solid mass. In Tension, found natural objects are soaked in resin and carefully measured by pointing tip to find a tension between a void and a life. Following this gesture and aesthetic, my studio practice searches for the boundary between naturalness and artificiality, embracing and delineating the struggle of the division between the two."
Ishimura's sculptures, which have been exhibited both nationally and internationally, include recent sculptural drawings at Biwako Binnale, Shiga, Japan; Gallery C at Tokyo Metropolitan Art Museum, Tokyo, Japan; Masur Museum of Art in Monroe, Louisiana; and the Wichita Falls Museum of Art at Midwestern State University, Texas.
Her continued exploration of ways to celebrate global society and its appreciation among countries had led her to have a solo exhibition in conjunction with the National Council for the Ceramic Arts Conference in Cincinnati, Ohio. Shas also attended artist in residencies, including the Windgate artist in residency, Franconia Sculpture Park, and Hambidge Center for Creative Arts and Sciences.
She served as the first artist in residence in ATU history during the spring 2019 semester and created "Tsumiki" with support from the Windgate Charitable Foundation. The sculpture is on permanent display outside the Techionery on the ATU campus in Russellville.
(Photo by Liz Chrisman Courtesy of Arkansas Tech University)