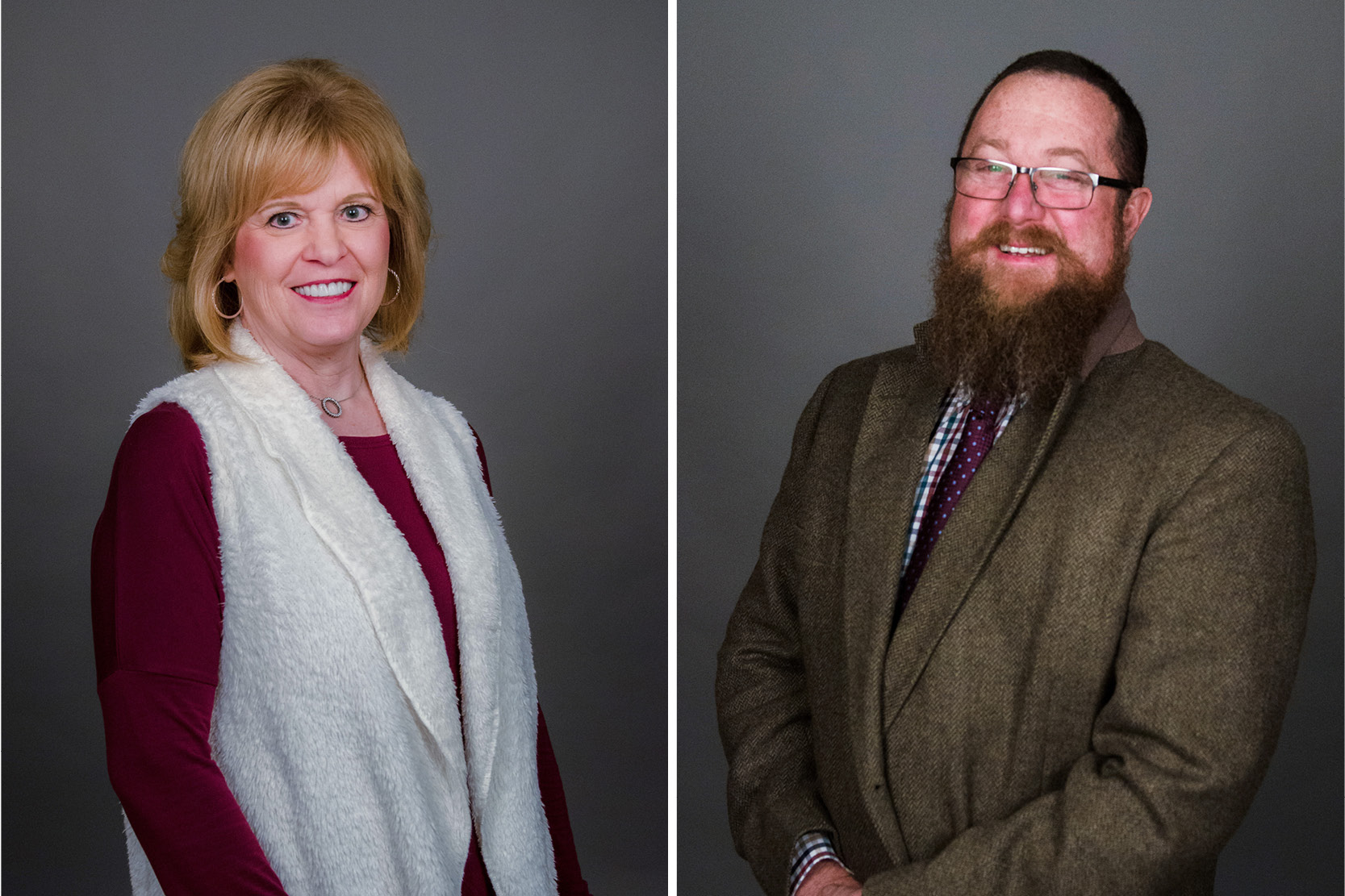 Karen Schluterman, director of human resources, and Greg Stone, network technician, have been named the recipients of the University of the Ozarks' outstanding staff awards for 2019-20, it was announced Monday.
Schluterman received the Alvin C. Broyles Outstanding Staff Award and Stone won the Arnie G. Sims Outstanding Staff Award. The awards were announced to the campus community during Monday morning's President's Standup meeting that was held via Zoom.
Schluterman joined Ozarks in 1990 as an administrative assistant for the Business Office. She also served as accounts payable coordinator, assistant controller, senior accountant and human resources manager before being promoted to director of human resources in 2016. She earned a degree with honors in accounting from Ozarks in 2003.
In her nomination, a colleague wrote that Schluterman "is always pleasant and professional and she helps me navigate the confusing world of employee benefits and HR … She is a good listener, open to suggestions and ideas, and works hard to take our feedback and implement change in an attempt to make HR business as efficient as possible."
Stone started at Ozarks in 2008 as a maintenance technician and transferred to Information Technology in 2013. He has led the University's efforts in smart classroom upgrades, security camera installation and phone system maintenance in the last few years. He was also instrumental in helping the University complete the MacLean Hall renovation in 2019.
In his nomination for the Sims Award, a colleague wrote that Stone is "wired to help others."
"He has a special blend of 'want to help' and the skill, talent and knowledge to help," the nomination read. "He takes this blend and adds a large of dose of 'looking for ways to help.' Then he applies these marvelous traits to make everyone at Ozarks better, to make all of our jobs easier … He is unassuming, so most do not know of the depth and range of his skills.  He patiently helps all comers with the simplest issues relative to our computer systems, but many don't know that he can look at a complete architectural schematic, say for a building as large and complex as MacLean Hall, and quickly translate the implications and requirements for the complete wiring harness for phones, computers, wireless, and security.  His skill in this regard keeps architects, contractors, and sub-contractors on schedule, protects the University, and saves us great amounts of money and time."
Topics: About