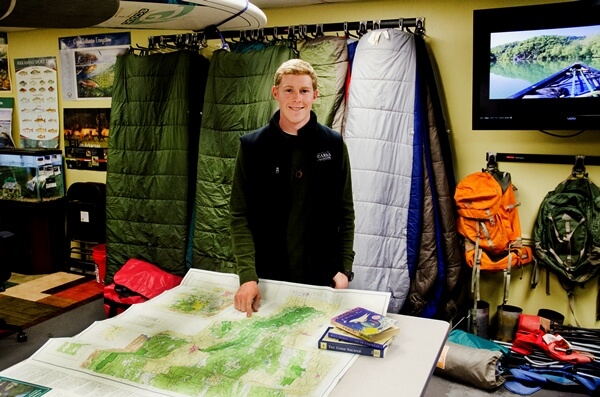 As Jake Sawyer was reading the Office of Career Services' weekly Career Corner newsletter last semester, a line under the internship opportunities section with the title, "BookTrails: Steamboat Springs, Colorado," suddenly caught his eye.
"As an English major and an avid lover of the outdoors, the plain combination of "book" and "trails" in the same sentence was very intriguing," said Sawyer, a University of the Ozarks freshman from Mena, Ark. "I looked up their website and immediately decided it would be the perfect fit."
Sawyer will spend 10 weeks this summer in Colorado serving an internship with BookTrails, a nonprofit organization that promotes literacy and the outdoors for children. The series of week-long camps combine reading and writing exercises with nature hikes and outdoors education programs.
Each camp will have a different theme or book series that the students will focus on, such as a survival skill camp based on Gary Paulsen's "Hatcher" series, or a pioneering camp paired with "The Little House on the Prairie."
Sawyer secured one of the program's four internships from more than 200 applications. He's also one of only a few freshmen to ever earn an internship with the program.
Freshman Jake Sawyer of Mena, Ark., was one of four college students from more than 200 applicants to secure an internship this summer with BookTrails in Steamboat Springs, Colo.
He credited Ruth Walton, director of Career Services, for helping him during the application process.
"I put together a rough draft of a resume and cover letter and Ruth gave me a wealth of great feedback and ways to improve it," Sawyer said. "The resume heped me get to the next round and I have no doubt that without going to Ruth I would not have gotten the internship."
After a phone interview, Sawyer advanced to the final round, where a Skype interview and a strong letter of recommendation from Ozarks Outdoors Director Bendex Stevenson helped him make the final cut.
"Even though I was a freshman, the director told me that she fought for me because she thought I had great energy and personality for their organization," Sawyer said. "When I got the news that I had received the internship, I was very excited because it's such a great opportunity to combine two things that I love, reading and the outdoors."
A zealous reader since he was young, Sawyer said he has gained a greater interest and confidence in writing during his first year at U of O.
"My first semester at Ozarks I took an intro to creative writing class with professor Chris Carrier and that class really changed how I viewed writing," Sawyer said. "That class made me really think about how I wanted to express myself, what goals I wanted to set in my writing and what types of things I wanted to write about. It got me really excited about writing for probably the first time in my life. Also during that first semester I entered Project Poet and was thrilled to finish in third place. That was really the first time I've ever made my writing public and had others hear it and judge it. That was a great confidence-booster for me and was incredibly affirming."
Sawyer, who would like to become a college professor one day, is also a member of the university's swim team as well as the Outbackers. He said he has been amazed how much has happened in just his first year at Ozarks.
"it's pretty remarkable how much I've learned and grown these last few months," Sawyer said. "The professors here have been so supportive and inspiring. I'm excited to see what the next three years will bring."
Topics: English, Internships, Outdoors