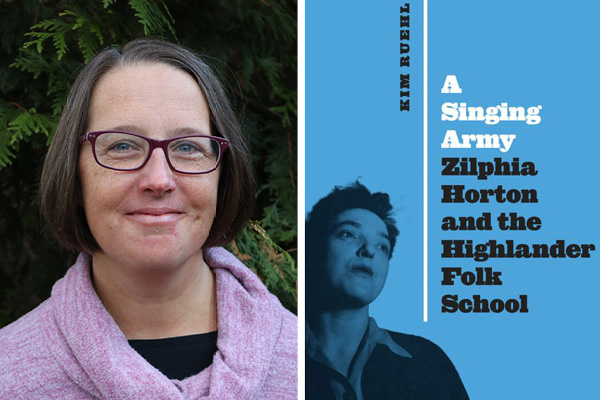 Author Kim Ruehl (pictured, left) will visit University of the Ozark on April 7 to discuss her 2021 book titled, "A Singing Army: Zilphia Horton and the Highlander Folk School," which highlights the life and legacy of 1931 Ozarks graduate Zilphia Horton.
The event, which is part of the University's Walton Arts & Ideas Series, is scheduled for 7 p.m. in the Rogers Conference Center. The event is free and open to the public, but seating is limited and tickets must be reserved in advance at https://www.eventbrite.com/e/kim-ruehl-wais-event-tickets-297281776797
Ruehl's book is the first biography of Horton, an activist and musician who inspired thousands of working people and left a legacy that changed the world. A native of Paris, Ark., Horton studied music at what was then College of the Ozarks before becoming a pioneer of cultural organizing, an activist and musician who taught people how to use the arts as a tool for social change. She is considered a catalyst for anthems of empowerment, such as "We Shall Overcome" and "We Shall Not Be Moved."
Ruehl has described Horton's story as that of a "small-town teacher who stood amid the segregated confusion of the McCarthy Era, and taught a revolution to sing."
Horton's contributions to the Highlander Folk School, a pivotal center of the labor and civil rights movements in the mid-twentieth century, and her work creating the songbook of the labor movement influenced countless figures, from Woody Guthrie to Eleanor Roosevelt to Rosa Parks.  Despite her outsized impact, Horton's story is little known. "A Singing Army" introduces this overlooked figure to the world.
Drawing on extensive archival and oral history research, as well as numerous interviews with Horton's family and friends, Ruehl chronicles her life from her childhood in Arkansas coal country, through her formative travels and friendship with radical Presbyterian minister Claude C. Williams, and into her instrumental work in desegregation and fostering the music of the civil rights era. Revealing these experiences―as well as her unconventional marriage and controversial death by poisoning― "A Singing Army" tells the story of an all-but-forgotten woman who inspired thousands of working-class people to stand up and sing for freedom and equality.
Ruehl is a writer, editor, and folk music advocate based in Asheville, North Carolina. She has written for Billboard, NPR Music, Seattle Weekly, and various others. She was also editor of No Depression — the roots music journal — for nine years.