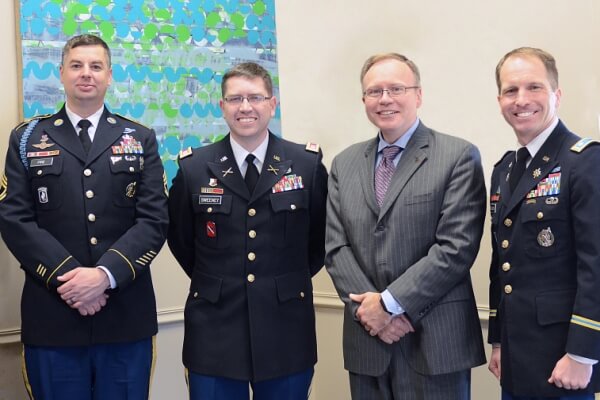 For the first time in almost 30 years University of the Ozarks students will have the opportunity to participate in the U.S. Army Reserve Officers' Training Corps (ROTC) program.
The University has re-established its ROTC program for the Spring 2018 Semester in collaboration with the University of Central Arkansas' (UCA) ROTC program. Ozarks last had ROTC on campus in the late 1980s.
According to U of O Assistant Vice President for Advancement Reggie Hill, approximately a dozen current Ozarks students have shown interest in being part of the new program that prepares selected students to serve as commissioned officers in the active or reserve components of the Army.
"We are excited about providing our students with another pathway to long-term success and with additional career options," Hill said. "ROTC is a first-class leadership and management program that offers an unparalleled opportunity for personal development. ROTC is also one of the nation's leading sources of college scholarships, which is another great benefit to our current students as well as prospective students."
U of O's new program will fall under the administration of UCA's program, which includes eight Arkansas colleges and universities and forms the Bayonet Battalion, headquartered at UCA.
Ozarks is planning to add a minor in military science to its academic curriculum for the Fall 2018 Semester, according to Hill. Until the minor is established, U of O students enrolled in the ROTC program will take military science classes and leadership labs as well as conduct physical training through the Arkansas Tech University affiliate program in Russellville.
According to CPT Matthew Sweeney, assistant professor of military science and officer in charge at ATU, there are 35 students enrolled in the ROTC program at Tech.
"I am honored to be a part of helping re-establish the program at Ozarks and to help attract, motivate and develop good young officers for either the U.S. Army's reserve components or active duty," Sweeney said. "I'm well aware of the great academic reputation of Ozarks and I know it has high-quality students. We're here to give those students who might have an interest in the military another option and to continue to expand the pipeline for top-quality officers as much as we can."
Army ROTC offers two, three and four-year scholarships, awarded strictly on merit. The scholarship covers full tuition and fees. Additionally, they receive a stipend of $300 a month as a freshman, $350 a month as a sophomore, $450 a month as a junior, and $500 a month as a senior, as well as a stipend for books.
The Army ROTC Program is of modular construction and is composed of a basic and an advanced course. Enrollment in the basic course is open to all full-time students, and it carries with it no obligation for military service. Completion of the basic course is a prerequisite for application to the advanced course. Upon successful completion of the program and graduation from college, young men and women become an Army Lieutenant in either the active Army, Army National Guard, or the U.S. Army Reserve.
For more information on the ROTC program, please contact the U of O Office of Admission at 479-979-1227.
Topics: About, Academics, Admission, Financial Aid, Military Science, ROTC