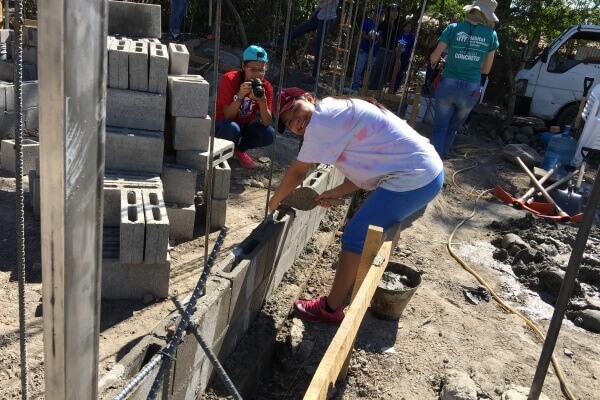 One of the core values of University of the Ozarks is "the service of all of creation," and that driving principle was on full display during a recent mission trip to El Salvador by the student organization Rotaract.
Rotaract is a Rotary-sponsored university club for young men and women ages 18 to 30. A group of seven students from the organization traveled with advisor Cindy Lanphear, assistant professor of practice management and business, to El Salvador during the University's spring break, from March 17-25.
The group joined with local Rotary clubs in San Salvador to take part in several volunteer projects, including assisting in a Habitat for Humanity International project and providing shoes and backpacks filled with school supplies to rural children.
The funding for the trip and projects were secured through a Rotaract swim meet fund-raiser as well as through donations from area Rotary clubs in Clarksville, Russellville and Dardanelle. The Rotaract group, which had about 28 students in the organization this academic year, also received an Alumni Enrichment Award from the U of O Alumni Association.
Selena Haunty, a student from Belton, Mo., and president of Rotaract, said the mission trip was one she will never forget.
"I think I learned for the first time what it really means to serve others," said Haunty. "To see people from these different Rotary organizations come together and make a difference was amazing. It had a big impact on me."
In the Habitat for Humanity project, the students worked with limited tools to help dig a foundation and build the flooring and walls on a residential home.
A group from the University's Rotaract chapter recently took part in a mission trip to El Salvador, where they worked on a Habitat for Humanity International project.
"It felt great to work hard as a team and watch the difference you were making," said senior Meghan Mansur. "We actually met and saw the people who were going to be living in the house, which made it even more special."
The projects with the school children also made an impact on the U of O students.
"You saw things like one teacher for two different grades and even classes where the older children were teaching the younger ones because some of the teachers were absent," said Ederlee Gomez of Clarksville. "We also saw really young children walking to school by themselves, something you'd never see in the United States. To know that we were able to provide shoes and school supplies to the children was very satisfying."
The students stayed with local host families, which enrichened the experience.
"To live with the families and eat the local foods added to the total experience," said senior Doug Rye. "It made me realize that in some ways the world is bigger than what I'd thought, but it also made me realize that people are the same in a lot of ways, no matter where they live."
While in El Salvador, the Rotaract group had dinner with several Ozarks alumni.
The students also has an opportunity to meet and interact with Rotarians from El Salvador as well as Ozarks alumni living in the area.
"There were team-building events and cookouts with the other Rotarians, which was a great bonding and networking experience," said Meghan. "It was also great to meet alumni and share our connections."
Lanphear said the mission trip to El Salvador epitomized what Rotaract and U of O are all about.
"Part of Rotaract's mission is taking part in international trips and exchanges and to serve others, which is also a part of this University's mission," Lanphear said. "Experiences like these make students more aware and appreciative of what we have here and it makes them realize that they can make a difference for people who are less fortunate. They have an increased awareness of what they can do in this world."
Topics: Student Organizations