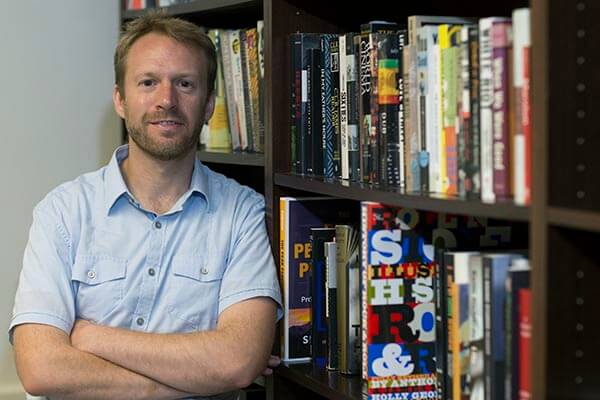 Academic, author and pop music critic Jack Hamilton will discuss his recent book, "Just around Midnight: Rock and Roll and the Racial Imagination," at University of the Ozarks on Wednesday, March 28.
The event, which is a part of the University's Walton Arts & Ideas Series, will begin at 7 p.m. in the Rogers Conference Center. The public is invited and there is no cost for admission.
Hamilton is an assistant professor of American studies and media studies at the University of Virginia, where he has taught since 2014. His first book, "Just around Midnight: Rock and Roll and the Racial Imagination," was published by Harvard University Press in fall of 2016.
He is also the pop critic for Slate magazine, where he writes about music, sports, and other areas of culture, and his work has appeared in The Atlantic, NPR, ESPN, Transition, L.A. Review of Books, and many other venues.
In "Just around Midnight: Rock and Roll and the Racial Imagination," Hamilton declares his intent to "disrupt the stories that we have told ourselves about what we've partitioned as 'black music' and 'white music' and to identify what we are actually talking about when we say these things."
By putting rock music titans in conversation with artists they're not usually connected with—Bob Dylan and Sam Cooke; The Beatles and Motown's Funk Brothers; Aretha Franklin, Dusty Springfield and Janis Joplin—Hamilton introduces a new level of understanding of some of the most popular music of all time.
Hamilton cited one example as The Rolling Stones. In the early 1960s, they emerge out of London as a group of white British kids who are curiously obsessed with the blues and soul, what was considered to be black American music. In the mid-1960s, the Stones are celebrated for their fluency in that tradition, but by the end of the decade, "instead of being viewed as channelers of the authentic, they are the authentic, and that's a weird shift," caused partly by the fact that recognition of the Stones' engagement with their influences slipped as the band's own story grew, said Hamilton. Mick Jagger becomes "the real thing," and not just "the white British kid who can sort of sing like Muddy Waters."
Hamilton was born and raised in Boston. After spending a few years as a professional musician, he received a B.A. in English from NYU in 2003 and a Ph.D. in American studies from Harvard University in 2013. He spent the 2013-14 academic year as the inaugural postdoctoral research fellow at the Laboratory for Race and Popular Culture at the University of Colorado, Boulder. Hamilton is currently working on a book about music and technology since 1970.
For more information about Hamilton's talk at U of O, please contact the Office of Public Relations at 479-979-1433.
Topics: Community Events, English, Sociology