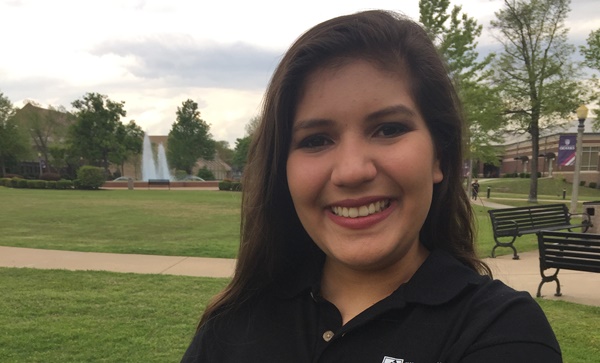 Valeria "Vale" Robleto is ready to get to work on behalf of her fellow classmates who elected her University of the Ozarks? Student Government Association president for the 2017-18 academic year.
Valeria "Vale" Robleto was elected SGA president for 2017-18.
Robleto, a senior-to-be chemistry and biology major from Nicaragua, was elected SGA president during the student elections, held April 20-21. She won the election by garnering 130 of the 183 votes cast.
Robleto has served as president of the Catholic Campus Ministries, as vice president of the Alchemist and as an Orientation Leader. She is also a member of the university's swim team and was the SGA vice president this past year.
"I'm honored to be selected to represent t the students at Ozarks," said Robleto, who served with SGA for two years. "To know that your classmates trust you to represent them is a very big responsibility and honor. I've got a lot of ideas and plans that I can't wait to start working on."
Among the initiatives that Robleto hopes to work on for the student body are new social media platforms for students, enhanced security measures for students living in apartments adjacent to campus and more student involvement with the Clarksville community.
"This is a great university and great campus, and we want to make it even better," she said.
Also during the elections, Eve Pinzon was elected SGA vice president.
In other results, Chance Silvey was elected president of Campus Activities Board and Ethan Lubera was chosen as vice president of CAB. Paul Jarvis was elected president of Residential Housing Authority and Chance Shultz was selected as vice president. Nicole Justice was elected chair of the Budget Allocation Committee.
SGA senators who were elected to serve one-year terms were, Zoe Sherman, Angelica Ordonez, Luis Robles, Yessina Alvarez, Gabriel Lavoi, Jake Sawyer, Robert Norton and Ben Howard.
Topics: Student Organizations