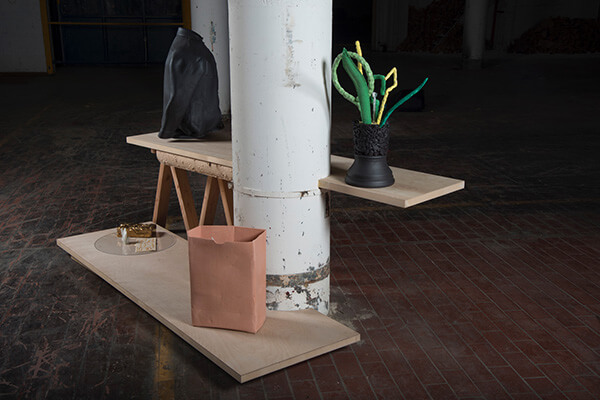 Arkansas River Valley artist and professor Jesse Ring will present his exhibit, "Orchard Floor," in University of the Ozarks' Stephens Gallery from Aug. 22 through Sept. 26 as part of the University's Artist of the Month series.
There will be an artist talk featuring Ring from 4-5 p.m. on Wednesday, Sept. 19 in Baldor Auditorium and a reception to meet the artist from 5:30-6:30 p.m. on Sept. 19 in the gallery. Both events are free and open to the public.
Ring, an assistant professor of sculpture and ceramics at Arkansas Tech University, said "Orchard Floor" is a remix of recent sculptural projects.
"The works include collections of re-materialized artifacts, depictions of specific landscape elements, and photographs of site specific installations," Ring said. "Each work, in varying degrees, spurs from a poetic response to loss of life and the desire to celebrate or memorialize it."
Ring said the "re-materialized artifacts" are personal artifacts that have been re-made, in a new material, with new touch.
"They survey the artifact as an object format with visual meaning dependent on its own history," he said. "Meaning which is inherent but can be influenced by the alteration of materiality and articulation of its display. For example, a wooden composition originally made with my father in 1989, my first act of sculpture, is mimicked in Formica and paired with a gradient and a marbled stone resembling an ear and framed by a reproduction of persimmon bark from his land. It remains primarily formal while taking on qualities of an alter framed to view."
Haptic materials like clay, paper pulp, and wax are prevalent in Ring's studio because they are responsive plastic materials with the ability to take on diverse visual qualities.
"Formable in a spectrum spanning accurate depiction to expressive interpretation," he said. "The process of material transmutation that is paramount to ceramics is further applied as an ideology in my approach to sculpture. Considering how the process of formulating the material and composing the object can be used equally to affect the imbued meaning of a representational form. Like a moon, milled out of foam, based on code generated from a spliced and re-assembled NASA lunar model, coated in phosphorescent dust."
Ring was born in an octagonal home that his father built on Seven Springs Cooperative in Eastern Missouri. Growing up as the son of an inventive carpenter was foundational in his approach to sculpture.
He received his bachelor's degree in 2006 from the Kansas City Art Institute. Over the next eight years he moved 12 times between nine states to purse artist residencies and other opportunities that expanded his studio practice. In 2015, he received his MFA from the New York State College of Ceramics at Alfred University. He has since been a visiting artist at CAFA City Design School in Beijing, University of Cincinnati DAAP, a resident artist at The Vermont Studio Center, and Zentrum Fur Keramik in Berlin.
The Stephens Gallery is located in the Walton Fine Arts Center on the U of O campus and is open to the public from 9 a.m. to 4 p.m. Monday through Friday.
Topics: About, Art, Community Events