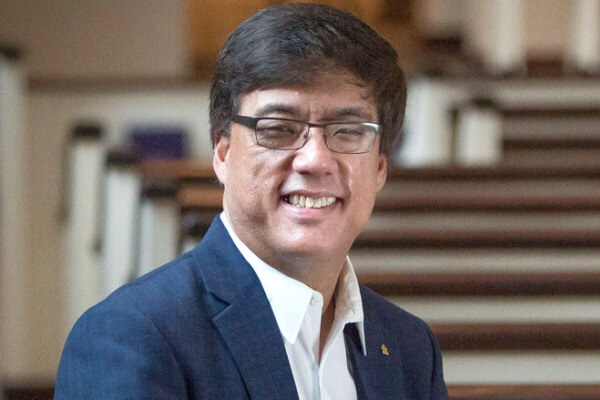 University of the Ozarks will present a talk titled, "Discerning God's Call: Finding Your Core Purpose," by Presbyterian Pastor Dr. Rodger Y. Nishioka at 7 p.m., Wednesday, April 26, in the Rogers Conference Center.
Nishioka's visit is made possible by the Cecil and Ruth Boddie Farmer Chapel Guest Speaker Endowment. There is no charge for general admission and the public is invited to attend.
Nishioka is the senior associate pastor and director of adult faith formation at the Village Presbyterian Church in Prairie Village, Kan.
He said current research shows that millennials, more than previous generations, are having a difficult time discerning a meaningful purpose for their lives.
"People who have no particular destination tend to wander aimlessly and then wonder why," Nishioka said. "Whether it's due to fear of making the wrong choice or an overabundance of choices, when asked, most millennials cannot articulate any sense of a calling.  The struggle here is that finding one's calling and core purpose are integral to maturity and identity. This lecture will focus on how one discerns God's call amidst all the competing calls of the day. We will explore what a core purpose is, why it is valuable, and how one finds and tests it. One of the foundational beliefs of all faiths is that each person exists for a reason. For followers of Jesus, we believe that Jesus shows us how to find and live into our core purpose."
Born in Honolulu and raised in Seattle at the Japanese Presbyterian Church, Nishioka is the son of a retired Presbyterian minister. He is one of the most sought-after and inspiring preachers in the Presbyterian Church (U.S.A.). Prior to his joining Village Church last year, he taught for 15 years at Columbia Theological Seminary in Decatur, Ga.
He received his doctor of philosophy degree in social and cultural foundations of education from Georgia State University. He earned his master of arts in theological studies with an emphasis in biblical studies and theology from McCormick Theological Seminary in Chicago, and a bachelor of arts in English from Seattle Pacific University.
University of the Ozarks Chaplain Rev. Jeremy Wilhelmi was one of Nishioka's former students.
Nishioka will also be speaking at the university's weekly chapel service at 11 a.m. on April 26. His sermon is titled, "Saving Ourselves and Others," based off the classic text for young adults and their calling: 1 Timothy 4:11-16. In the text, Timothy is told not to let anyone look down on him because of his youth but instead to set an example for the believers. In so doing, Timothy will save himself and his hearers.
Presbyterian Pastor Dr. Rodger Nishioka will speak at U of O on April 26 as part of the Cecil and Ruth Boddie Farmer Chapel Guest Speaker Endowment.
Topics: Presbyterian