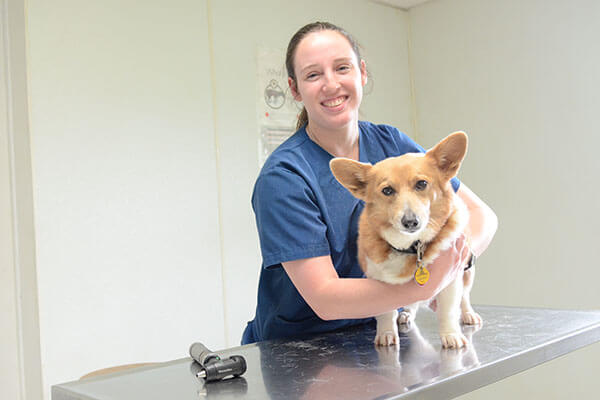 Thanks to a rescue dog named Pico, Cristin Connor had her career aspirations determined at a young age.
Connor is a University of the Ozarks senior biology major from Gunter, Texas. She will graduate from Ozarks on May 18 with Magna Cum Laude honors and then pursue a degree in veterinary medicine at the University of Edinburgh in Scotland in the fall.
Connor said her interest in veterinary medicine started in her pre-teenage years when her family rescued Pico and brought him into the family.
"He had been abused as a puppy and there were times he would snap for just a second before coming back to himself," Connor said. "We could tell that he hadn't meant to hurt anyone and that he was just scared. I knew that it wasn't his fault and I wanted to help him, but being a child I didn't know how. As a veterinarian, I may not always know how to help my patients but I plan to help as many as I can. I want to study animal psychology and behavior in the hope that maybe I can figure out what I could have done to help Pico and apply that knowledge to help other dogs like him."
That a young woman from a small north Texas town of 1,500 would end up studying veterinary medicine at the University of Edinburgh is quite remarkable. Edinburgh, founded in 1582, is the sixth oldest university in the English-speaking world and one of Scotland's ancient universities.
"The University of Edinburgh is the best possible place for me to end up," she said. "I will have so many opportunities to travel through internships, which is something that I have always wanted to do. Also, the veterinary school is considered among the top six in the entire world, which is amazing. The Roslin Research Institute is a part of the school and has been home to really impressive projects. Finally, when I graduate I will have more practical experience than if I had chosen a stateside school and I will be able to practice in most of the world."
Connor said she began thinking of pursuing an advanced degree in a foreign country after taking part in an Ozarks study abroad trip to Italy and Spain with Walton Professor of Music Dr. Sharon Gorman and later taking part in an independent research project on armadillos in Cambridge, UK.
"I had an amazing time going for fun with Dr. Gorman and my desire to travel became so much stronger," Connor said. "I absolutely loved integrating myself into another culture, even if just for a few days. The biggest impact came from my trip to Cambridge for my research project. I was able to experience what it is like not only visiting somewhere amazing but working there as well. We would spend our mornings working on our project and our afternoons sightseeing. This trip is what really got me thinking that going to veterinary school abroad could be an amazing and attainable experience. In the end, I decided that going to Scotland would be the best thing for me to do in order to grow as a person, both intellectually and culturally."
Connor took it upon herself to gain practical experience while at Ozarks, working several days a week for a local veterinarian, Dr. Neal Jones at Clarksville Veterinary Clinic.
"In the summer after my junior year, I was remaining in Clarksville to work on my research project and I wanted to use my spare time to get some experience in a clinical setting," she said. "Dr. Jones was glad to help me and allowed me to begin shadowing him immediately. I learned so much from him during the summer and he even came to be one of my references for my vet school application. Dr. Jones continues to teach me every single day and has made me even more excited to begin learning to do all of the things that he does."
Connor was accepted into three of the four veterinary schools that she applied to, an accomplishment that she gives a couple of her professors credit for.
"Dr. Frank Knight was a huge help during the application process because he helped me to figure out who to ask to be my references and even read over my resume to make sure that it looked all right," Connor said. "He and Dr. Karen Frank both acted as references for my application and filled out the VMCAS evaluation for me. They have been amazing and I really appreciate everything that they have done for me."
Helping animals is the simple answer that Connor said drives her to pursue her career choice.
"I plan to open my own animal hospital sometime down the road, but I hope that I get the opportunity to travel to underdeveloped countries for aid work as well," she said. "There is so much good that a veterinarian can do for communities that do not usually have access to that kind of care. I also plan to continue working closely with animal shelters because I have a great appreciation for all of the time, emotion and hard work that shelter workers put into the animals in their care."
Whatever lies ahead for her, Connor is grateful for her Ozarks experience.
"Ozarks has provided me with many opportunities to grow and experience new things," she said. "While my classes have been informative and given me the basic knowledge that I will need moving forward, I believe that the biggest impact that Ozarks has had on me has been in the extracurricular realm. As a member of the soccer team and an orientation leader and peer mentor, I learned how to be a leader. I gained confidence in myself that has allowed me to excel. My study abroad experiences, along with the diverse campus community, has left me with a great appreciation and curiosity for that which is different from me."
"Moving forward from here, I plan to seek out more opportunities to experience different cultures and perspectives because I believe that is the only way that I can be the best me possible."
Topics: About, Academics, Biology, Student Stories