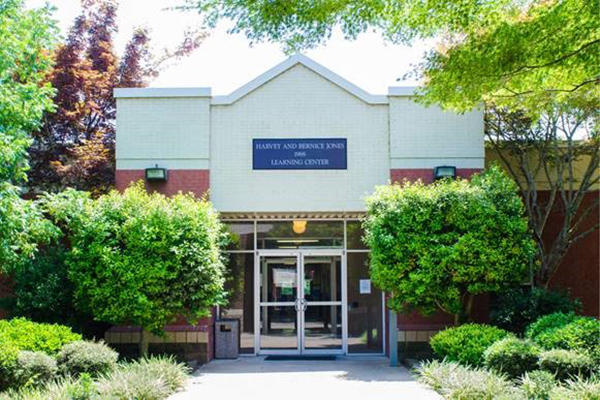 In an effort to better serve all University of the Ozarks students, a reimagined Jones Learning Center will take the lead in a campus-wide initiative to provide a broader-reaching support system for students in areas such as college success, academic advising and life skills.
In the new model, which begins the Fall 2020 Semester, the JLC will partner with the Student Success Center (SSC) and the Office of Student Affairs to provide additional support, coaching and resources to the overall student population.
As it has since it opened in 1971 as the first program of its kind in the nation, the JLC will continue its comprehensive program to assist students with documented learning disabilities, Attention Deficit/Hyperactivity Disorder or Autism Spectrum Disorder.
"This new model will allow us to broaden the reach of the wonderful resources of the Jones Learning Center to help improve the retention and success of all students," said University President Richard Dunsworth. "The JLC staff is well-trained and well-versed in these types of college transition, academic and life skills training that are proven to help students thrive. We are excited about being able to offer these similar success coaching resources to the entire student population."
Under the new model, staff members of the JLC, SSC and Student Affairs will serve as instructors, academic advisors and success coaches in Ozarks Experience, the University's first-year, first-semester course aimed at helping freshmen transition to college. The JLC will also serve as the primary advising hub for all freshmen and undeclared students as they prepare for faculty advising. For juniors and seniors, the support would be more organic and informal and on an as-needed basis.
"We wanted to create a team of skilled and trained staff members that would serve as the front-line for students and provide a significant level of contact, especially with first-year students," said Luke Morrill, vice president for student affairs and dean of students. "Our goal is to lay that foundation the first couple of years so that students can become more independent as juniors and seniors. It allows us to have an holistic success coaching approach that mimics what the JLC is already doing and gives us the ability to further develop student relationships and positively impact retention."
Dody Pelts, director of the JLC, said the changes are guided by the University's mission of educating all diverse learners.
"This initiative will provide students with a team of professionals who will serve as a combination of proactive advisors, life coaches, mentors and guides to the Ozarks experience," Pelts said. "Ten of our team members completed an intensive three-month Master Coaching Academy over the fall and winter to hone life coaching and mentoring skills. We are excited to put this knowledge to use in order to enhance the overall educational experience for students at Ozarks."
Connie High, director of the Student Success Center, said she looks forward to being a part of an enhanced "cross-departmental approach" to student support that will also serve as a bridge for new students from their contact with the admission staff to the time they arrive on campus.
"This partnership will allow us to provide more services to more students with the common goal of student success," High said. "It will also give new students someone who can help them begin to navigate the academic world before classes start and who can continue to help them throughout their time at Ozarks."
Morrill said some of the life and college success skills that could be emphasized include, time management, financial literacy, mental health awareness, cultural competency, motivation and perseverance.
The restructuring will allow the JLC to offer its fees to students with learning disabilities at a significant decrease from current costs. The price for the comprehensive Track 1 services for students in the JLC will decrease more than 40 percent to $12,000 a year, and the cost for students in the Track 2 program will decrease to $8,000 a year.
"One of the main goals throughout this process was being able to provide the same quality of services to our JLC students as we always have but at a much reduced cost for our students and their parents," Pelts said. "This model will allow us to do just that while also playing a larger role in the success of all students. It really is a win-win situation."
Other components of the new student support initiative include:
Establishing a centralized hub for the early alert system for students who are struggling academically.
Providing an updated intervention and support system for students on academic probation or warning with an emphasis on advising.
Creating a testing center in the JLC for the campus community as well as the managing the administration of standardized testing, such as the ACT.
Utilizing the JLC as the academic and student support contact for the new Greystone Preparatory School.
Establishing a lounge for commuter students.
Creating additional support for ESOL (English for Speakers of Other Languages) efforts.
Providing a future summer workshop series for Frontier Scholars and local students, focusing on building skills to assist in the transition to college.
Topics: About, Academic Support, JLC