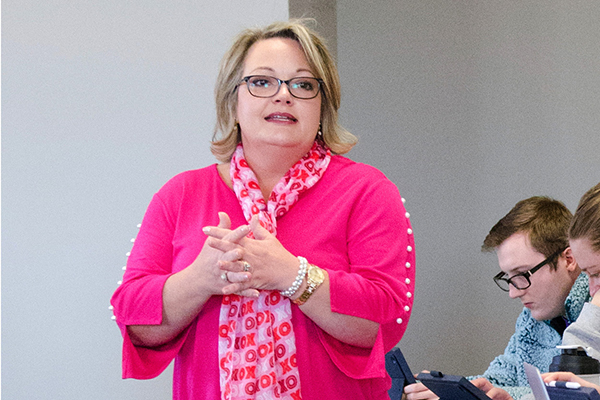 University of the Ozarks Associate Professor of Business Dr. Christine Scott has had a research paper published in the March 2020 edition of the peer-reviewed Global Journal of Economics and Finance.
Scott's paper, "Strategies to Implement Efficient Closing Cycles," stems from research from her doctoral dissertation that she completed in 2019 in earning a doctorate in business administration (DBA) from Walden University.
The research focuses on how hospitals use process improvement techniques, such as Lean, Six Sigma and Lean Six Sigma, to increase quality and efficiencies in the era of Big Data. Scott said the research is the first qualitative study to investigate the application of manufacturing theories within the service sector.
"When I started the doctoral dissertation planning process, I felt confident I would complete a quantitative analysis project where I would engage in statistical data examination," Scott said. "After encouragement from my chair, Dr. Marilyn Simon, to focus on the gaps within the most recent scholarly literature, I discovered that hands-on applied qualitative field research is lacking—especially in the areas of accounting, economics and finance. By completing a qualitative a case study, I not only addressed the gaps within the scholarly literature but also provided insight into the holistic approaches used within the evolving healthcare arena."
A first-generation college student, Scott earned a degree in accounting from Ozarks in 1995 and went on to earn an MBA from Webster University in 2004. She was inducted into Delta Mu Delta for her doctoral GPA and academic excellence at Walden. She has taught in higher education since 1998 and at Ozarks since 2010.
Scott's paper can be accessed through this link: http://gjefnet.com/images/Vol4No1/3.pdf
"I am honored to receive peer-reviewed journal publication based on research I completed during my doctoral dissertation," Scott said. "I look forward to continuing my research and expanding the scholarly literature related to applied business practices. It is my hope that my field research inspires others to explore holistic methodologies that can directly contribute to applied business practices."
Scott and her husband, Jamie, and son, Michael, reside in Dean Springs, AR.
Topics: About, Business Administration