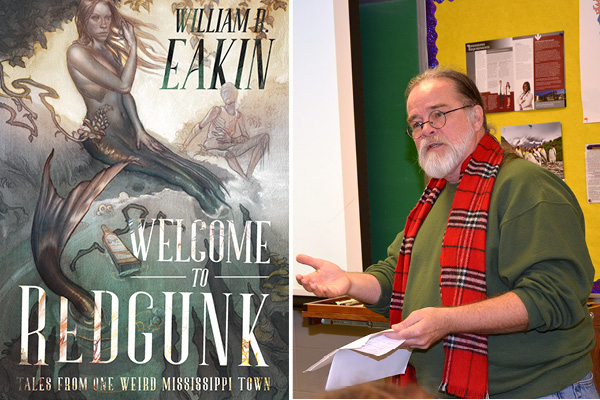 University of the Ozarks Professor Emeritus Dr. William Eakin's newest book, "Welcome to Redgunk," will be released on Nov. 1, 2021, by Lethe Press.
Eakin taught at Ozarks from 1991 until his retirement as professor of philosophy and German in 2020. He was the recipient of the University's Bagwell Outstanding Faculty Award in 2003 and 2020 and was granted professor emeritus status in 2020.
"Welcome to Redgunk" is a collection from more than 30 years' worth "of silly and weird, irreverent, satirical" stories set in the fictional rural Mississippi town of Redgunk, Eakin said.
The book's publicity reads, "Forget Arkham and Dogpatch, Yoknapatawpha County and Hooterville, forget what guidebooks might allege, because the weirdest town to be found in the Western Hemisphere is Redgunk, Mississippi, where strange encounters are more than local gossip and the kudzu hides all manner of creatures and adventures. Ghosts, aliens, even a mummy and mermaid, can be found just outside of town on County Road 63."
Many of Eakin's stories were first published in such prominent magazines as Realms of Fantasy, The Magazine of Fantasy & Science Fiction, Amazing Stories, and others.
Kim Mohan, the editor of Amazing Stories, called the book, "…eloquent and witty, thoughtful and even heart-rending…. Every time I've read a Redgunk story recently, I've come away thinking the most recent was better than what I had seen before. I'm coming to realize that it's not a question of better; each one has been good on its own…"
Adrienne Lee, University of Southern Mississippi Libraries, said the stories are, "Faulkneresque…creating images and feelings that cannot be conveyed with mere prose fiction… Even readers who normally avoid science fiction and fantasy may enjoy the  beauty of Eakin's imagery, his understanding of human nature and his attention to detail."
"Welcome to Redgunk" will be published as a hardcover edition, and digital format. The cover art is by Daniel Bitton and the 610-page book features an author drawing and map by Dylan Eakin, William Eakin's son, an accomplished artist and a 2013 graduate of Ozarks.
Topics: About