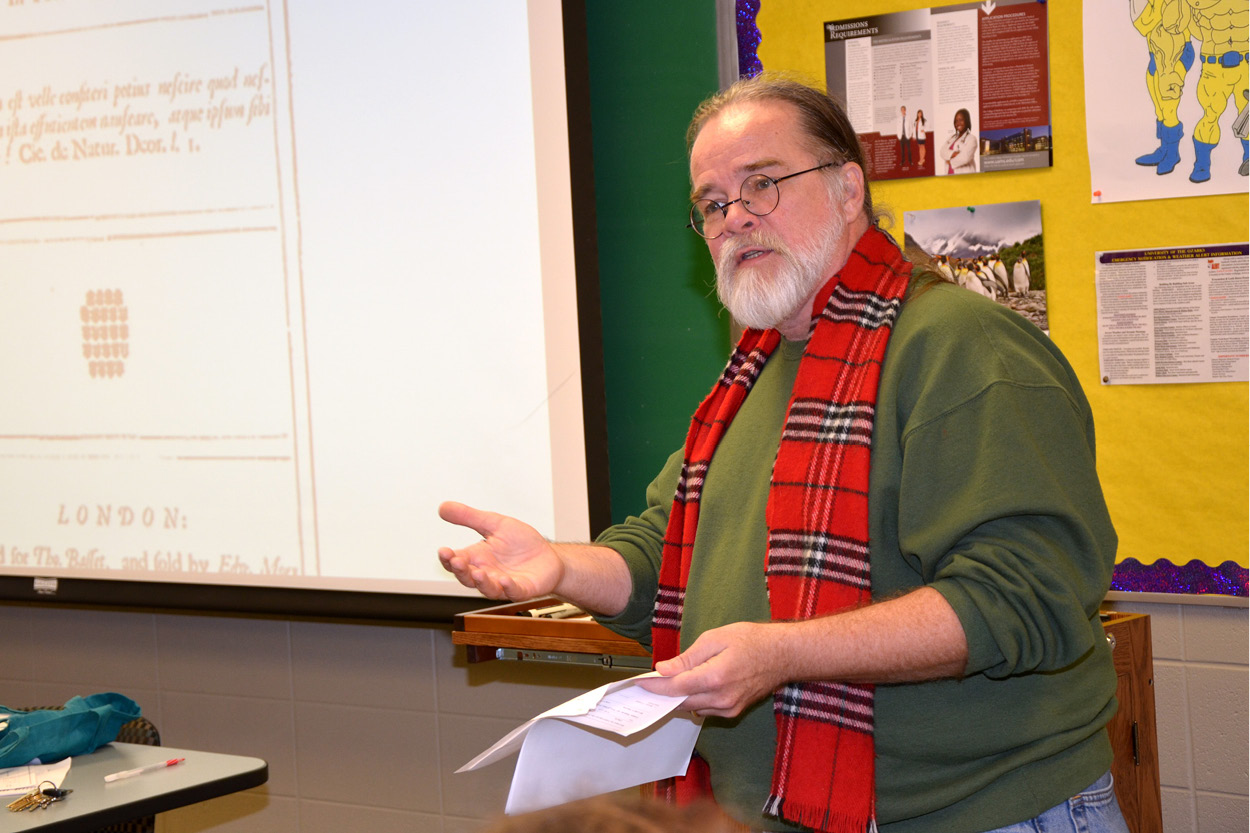 A wind comes up the snowy slopes of the great mountain. It comes from the Valley of Muses where grass is imprinted by sheep hooves and shepherds' feet. The wind is made eloquent by something too deep to be seen or heard or even felt in human terms. Do you hear it, there along the snowy ridge overlooking the vast bays and the Odysseus-rocks of the shore, the wine-dark sea and the columns of orange cloud? Do you feel it on the hilly slopes where the laurel leaves tremble? Do you heart the silence, too? The poetry of the wind?
William R. Eakin, Redgunk Tales (2001)
University of the Ozarks Professor of Philosophy and German Dr. William R. Eakin, who explores issues of philosophical inquiry in imaginative ways through his fictional short stories, has announced that he will retire after a nearly 30-year career with Ozarks at the end of the 2020 Spring Semester.
Eakin joined Ozarks in 1991 as an adjunct professor and has been a full-time faculty member since 2000. He served as coordinator of the study abroad program from 2009-2014 and has been a full professor since 2009.
Eakin said he made the difficult decision before the academic year that this would be his final year at Ozarks.
"I have found my most-loved colleagues and friends here," Eakin said. "I came to a place where I felt at home, where I could do what I felt I needed to do vocationally, and where I hoped I could make a difference.  It was where my children too could find their best paths in life. They, too, were nurtured by U of O. I have been to a lot of colleges, studying and teaching, but U of O has given me the best education I could have received. I say that with gratitude."
The recipient of the University's 2003 Bagwell Outstanding Faculty Award, Eakin developed the Philosophy program in the early 2000s and more recently helped establish a minor in Creative Writing and Thought.
Dr. David Daily, professor of religion and dean of the Humanities & Fine Arts Division, praised his colleague for his ability to reach students.
"When I think about Dr. Eakin and the long arc of his career here, I think of how he introduced generations of students to the riches of the world's many cultures and religions and philosophies," Daily said. "Whether it was taking students to see an ancient Hindu fire ritual in India or opening up a passage from Plato's Symposium, Dr. Eakin had a gift for helping students take delight in new ideas and new possibilities. Day in and day out, he has done the hard work of hospitality in dialogue, and we are all the better for it."
Eakin earned his undergraduate degree from Hendrix College, master's degrees from Baylor University and University of California at Davis and his Ph.D. from the University of Arkansas. He said he was always interested in how other people thought and how their views of the world differed from his.
"As a freshman in college in a course called 'Views of Man,' we read a book of philosophy each week," Eakin said. "One week we'd be in Plato's world, the next Augustine's; we'd see the contributions of Descartes, then Marx. Each philosophical work opened another world. I find this incredibly important—that the edges and limits of our thinking can themselves be expanded and opened."
Eakin said that view led him to not only teach philosophy, but to also write fiction, asking the "so-called boundary questions in both."
"What am I as a person? Is there meaning in the universe? What is real? Is there a God? What can I learn from others with very different religious viewpoints? What is language and knowledge at all?," he said. "At University of the Ozarks I found a place where my students and I could explore these things and a place where we encouraged students and faculty to open new conceptual worlds and literally go abroad. I have been fortunate enough to spend time with students in places like Greece, Italy, France, Germany, India and Egypt."
In addition to his fictional short stories, Eakin has written scholarly papers and book introductions on poets and philosophers like William Blake, Thomas Reid, Plotinus, Shelley and others. He has also co-edited numerous books on the world religions and issues of ecology, feminism, justice and pluralism for Orbis Books. His short stories have appeared in more than 100 publications, including in five of his own book collections. 
After retiring, Eakin said he will oversee the publication of a 30-year complete compendium of his short stories and will be helping a composer in New York City to adapt five of them as a musical theater production.