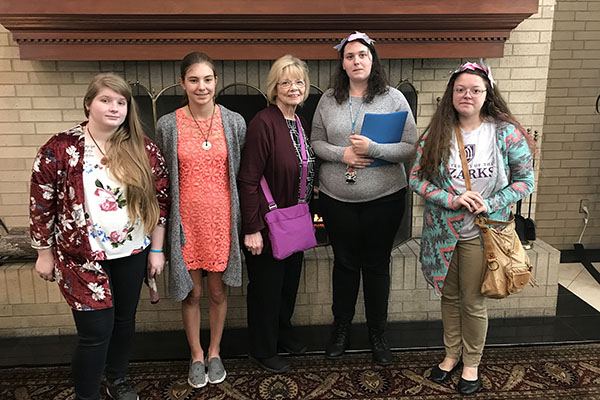 University of the Ozarks alumna and art and education adjunct professor Dr. Cathy Caldwell was recently presented with the Barbara Teague Leadership Award by the Arkansas Arts Educators at their 2018 conference in early November.
Caldwell is a 1969 graduate of Ozarks and has taught as an adjunct faculty member for the U of O art and education programs since 2015. She has taught on all levels, from elementary school to college, in her 45 years in education.
"I am so thankful for the 45 years of students who have never failed to provide a catalyst and inspiration for my teaching," Caldwell said. "Teaching is a most creative art form. It is a special honor to be a recipient of an award from fellow art educators which also honors the difference arts engagement makes in the lives of students."
The Barbara Teague Leadership Award is presented to a past state association officer that is "recognized for their outstanding contributions and service to the profession in the performance and/or development of specific programs, goals, or activities at the state or province association level."
"Dr. Caldwell is an amazing asset to the art program," said Tammy Harrington, professor of art at Ozarks. "Her knowledge and experience in the art education field is unparalleled and we are so lucky to have her teaching our students."
Caldwell has served as AAE president, membership chair, higher education chair, and conference coordinator.  She has been a visual arts specialist, curriculum coordinator for 14 schools, curriculum coordinator for all subject areas for two elementary schools, a professor in higher education and art department chair. In addition, Caldwell has been the recipient of the AAE's Higher Education Art Educator Award.
She was also selected as the Western Region Higher Education Art Educator of the year and the National Marion Dix Leadership award by the National Art Education Association. She has also been awarded and coordinated grants in curriculum development and preservice education school partnerships.
Caldwell took four Ozarks art students to the conference: Aubree Sisson, Tonya Palmer, Kirsten Endicott, and Willow Stratton.
"This experience is invaluable to the students and allows them to interact with other art educators from across the state," Harrington said. "Experiences like these also encourage the students to continue to develop skills and knowledge in this profession."
Caldwell's husband, Blaine Caldwell, is also a 1969 graduate of Ozarks and taught art at the University for 29 years before retiring in 2011.