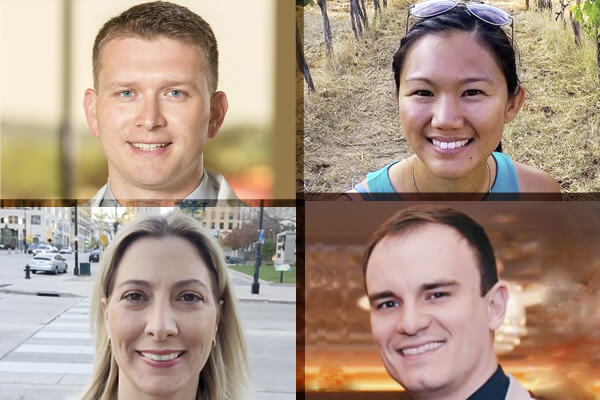 Four distinguished University of the Ozarks alumni will take part in the "More Than a Paycheck: Professions With a Purpose" panel discussion on Friday, Oct. 26, as part of Homecoming 2018.
The event will begin at 2:15 p.m. in the Walker Hall community room. There is no cost for admission and the public is invited.
The annual event will feature Saima Chauhan '99, Dustin James '10, Steffi Teo '11 and Dr. Kendall Wagner '06. They will discuss such topics as, how they chose their careers, job satisfaction and vocational calling.
Saima Chauhan '99
Chauhan is an outpatient clinical team manager at Journey Mental Health Center in Madison, Wisc. Diagnosed with dyslexia as a teenager, she struggled in high school. With the help of Ozarks and the Jones Learning Center, she was successful in college and went on to earn a master's degree in social work from the University of Arkansas. She started her career at Youth Bridge as a case manager, but quickly moved up first to a drug and alcohol counselor, and then to the director of residential substance abuse services. Chauhan helped establish the first residential drug and alcohol program for youth in Northwest Arkansas. She was appointed by the governor to serve on the State Board of Examiners for Alcoholism and Drug Abuse Counselors and on the State Task Force for Drug and Alcohol. She worked at Decision Point in Northwest Arkansas for almost five years with clients who had co-occurring disorders. She also served as an online adjunct professor at U of A, teaching subjects involving addiction. In her spare time, Chauhan is a volunteer firefighter and EMT for the Maple Bluff Fire Department in Madison.
Dustin James '10
James is a special education teacher in Springdale, Ark., A native of Wickes, Ark., he graduated from Ozarks with a degree in religion and philosophy and was a member of the University's Student Foundation Board. As a student, he also participated in intramurals, attended cultural events through the Walton Arts Center and explored the natural beauty that surrounded the campus. After graduating from Ozarks, he went on to earn a master's of art degree in teaching and became certified to teach secondary English in Arkansas. James said, "My undergraduate experience shaped a lot of who I am today, and I am excited to share the impact Ozarks had in guiding me toward a calling that I did not first envision."
Steffi Teo '11
A native of Malaysia, Teo is living in Springdale, Ark., where she works as a gifted and talented facilitator for approximately 200 middle school students. She graduated from Ozarks in 2011 with a degree in early childhood education and a minor in psychology. At Ozarks, she served as an office aid in the Admission Office and the Education Office and was also a member of the Student Foundation Board. After graduating from Ozarks, she spent four years teaching at an elementary school, while pursuing a master's degree in gifted education as well as her National Board Certification. Teo said of her time at Ozarks: "When I was not attending classes, working or showing prospective students around campus, I spent most of my time with my friends, cooking, playing board games, and exploring the outdoors. We also loved attending events held on campus, including productions by the drama department and Project Poet."
Dr. Kendall Wagner '06  
Wagner is a physician at Mercy Clinic in Fort Smith, Ark. A native of Waldron, Ark., Wagner graduated from Ozarks with a degree in biology and was named the 2006 Hurie Award recipient, which is selected by the faculty and given to the outstanding graduating senior.  He went on to matriculate at the University of Arkansas for Medical Sciences (UAMS), where he specialized in internal medicine and pediatrics. He served his residencies at UAMS and Arkansas Children's Hospital.