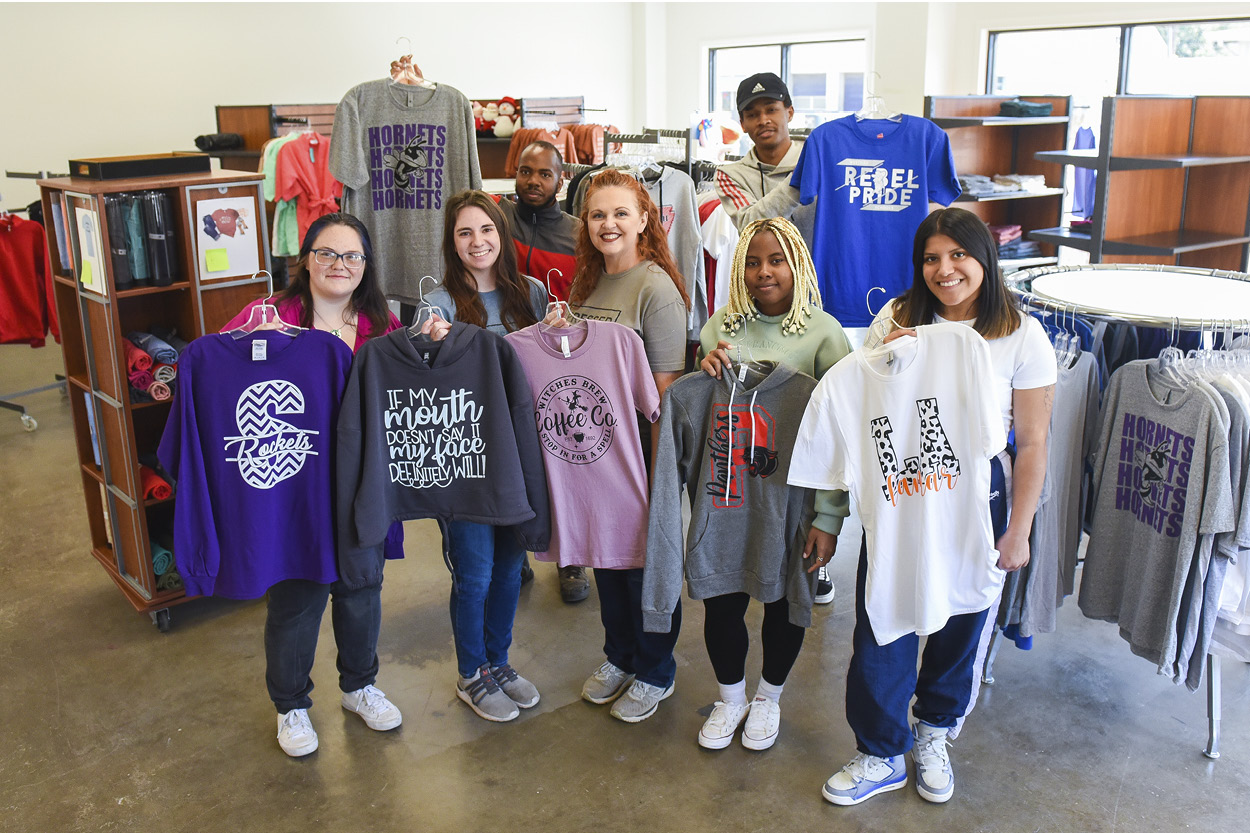 Pressed Ink, a University of the Ozarks-owned screen printing and embroidery business, will open in downtown Clarksville on Monday, Oct. 3.
The business is located at 100 N. Johnson Street. Hours of operation will be from 9 a.m. to 5 p.m. Monday through Friday.
Pressed Ink will feature in-house designers and digitizers for services ranging from screen printing to engraving and embroidery. It will also have pre-designed clothing items, including T-shirts and hoodies highlighting local schools such as Clarksville, Lamar, Westside, Oark and Scranton 
Tina Lemons will manage the store and Alexis Engel serves as the screen-printing technician. The business will also employ eight U of O students who will work 10-15 hours a week.
"We will offer custom tee shirts, and school spirit tees for the local and county high schools," Lemons said. "We will also have engraving services for many items and custom trophies and plaques made in the store as well as embroidery services for shirts, bags, baby gifts and many other gift ideas for those who are hard to buy for."
Lemons and Engel both previously worked in the embroidery business at Forrester-Davis Development Center's M.A.C. Industries. Both Lemons and Engle were hired to lead the operations for Pressed Ink after the University purchased the screen-printing and embroidery equipment from M.A.C. Industries in 2021.
Lemons said the goal of Pressed Ink is to provide "the campus and local community a customer service experience unlike what they typically receive."
She is also looking forward to working with the U of O students as they receive real-world experience working with a small business.
"This will be a real-world experience of what it is like to work in customer service," Lemons said. "They will learn all of the aspects of operating and running a business and this will allow them to grown into their full potential of business leaders, not followers."
The students who are currently working at Pressed Ink include, Angela Bray, engraver; Sarah Bureau, engraver; Michelle Gonzalez, customer service and embroidery; Lio Jean, screen printing; Ruudy Laguerre, engraving; Djouberj Mingot, screen printing; Fizza Tahir, customer service and embroidery; and Brittany Temple, screen printing.
Topics: About, Business Administration, Community Service