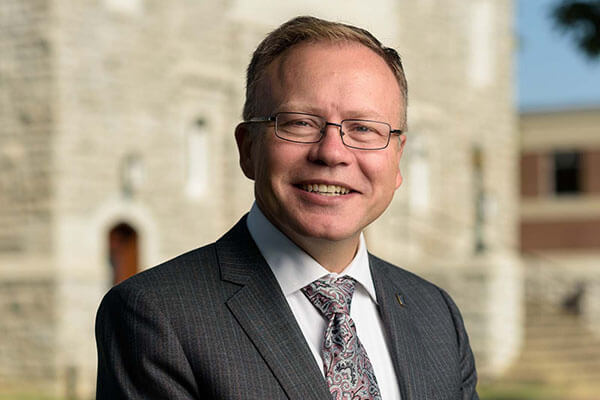 University of the Ozarks President Richard L. Dunsworth, J.D., has been elected as the new chair of the board of directors of the Association of Presbyterian Colleges and Universities (APCU) at the organization's annual meeting in March. His term will run through July 2020.
Dunsworth has served on the APCU board since 2017. The APCU is an independent, non-profit association that is dedicated to assisting the 56 Presbyterian-affiliated colleges and universities throughout the U.S.
"I am honored to serve on the board of directors of the APCU and humbled that my peers would elect me to serve in a leadership role," Dunsworth said.
Dunsworth became the 25th president of the university on June 1, 2013. Under his leadership, enrollment at the private-four-year Presbyterian-affiliated university has increased nearly 50 percent—from 585 in 2013 to 872 in 2018—and the university has raised more than $45 million for scholarships and facilities in its current Climb Higher Campaign.
U of O has been affiliated with the Presbyterian Church since it was founded by Cumberland Presbyterians in 1834 in Cane Hill, Arkansas.
As part of its mission, the APCU advocates the important, ongoing role that higher education plays within the Presbyterian Church (USA) and assists presidents in the development of strategies that fulfill their respective institutional missions.  APCU member institutions are eligible to participate in APCU-sponsored programs that include an insurance and risk management program, an international student exchange with institutions in Northern Ireland and a tuition exchange for children of faculty and staff members.
The APCU is governed by a board of directors consisting of presidents from 12 member institutions and the president of the Presbyterian College Chaplains Association (PCCA). The executive committee of the board includes the current board chair, the treasurer, the chair-elect, and the executive director of the association. Board members serve three-year terms.
Topics: About, Presbyterian