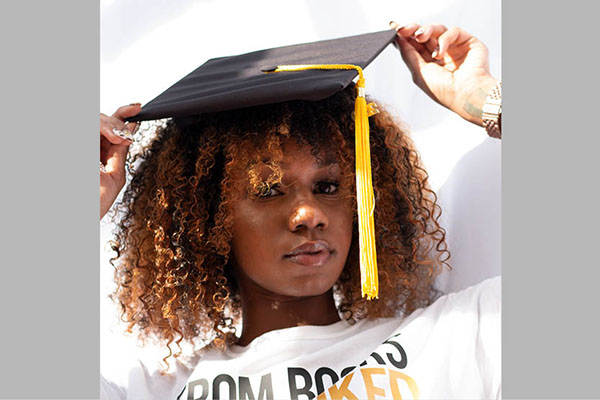 University of the Ozarks senior Ashante Pratt has had her video artwork, Peaceful Disturbance, accepted into the Fort Smith Regional Art Museum annual exhibition.
The RAM Annual Invitational, "Exploring Mindscapes: An Artist's Reflection," will be on display from Jan. 8, 2021, to May 16, 2021, at the museum, located at 1601 Rogers Ave., in Fort Smith.
Pratt, an art major and marketing minor from Nassau, The Bahamas, is graduating this month with the University's highest academic honors, Summa Cum Laude.  
Pratt said that Peaceful Disturbance was inspired by the effects of the Covid-19 pandemic on her and her home country. She added that her video artwork demonstrates "the chaotic unfolding that has occurred mentally, emotionally and spiritually within me during this pandemic."
"Even as the landscape of my home country displays its captivating peaceful rhythm, the foundation has found itself transforming starkly into a place of depression, aggression, confusion, and constriction under the rulings of a pandemic," Pratt said. "The imperfect lines that overlay the video showcase the mood and heartbeat of all that I have witnessed during this period of uncertainty and fright. Nonetheless, these chaotic markings come from the hands of an artist, a citizen, and a soon to be graduate under the typical stress of education itself. As the video comes to a close and the waves engulf the scenery, I pull away from it all in deep need of a release from such a peaceful disturbance."
Tammy Harrington, professor of art at Ozarks, said the University's art department encourages its students to participate in professional development activities such as art exhibitions and conferences.
"Once an art major reaches the final semester of their time at Ozarks, those students are required to enter two exhibition or publishing opportunities," Harrington said. "This push to try something new that is typically outside of a student's comfort zone is important. You never know what can be achieved if you don't give it a try. Several of our past students have been accepted into exhibitions and I am pleased to hear about Ashante's inclusion in the prestigious annual exhibition at the Fort Smith Regional Art Museum. This is a show that professional artists from all over the United States enter. It is my hope that this will encourage Ashante and all our students as well as alumni to continue for excellence in the art profession."
The RAM's theme for this year's exhibit, "Exploring Mindscapes: An Artist's Reflection" stems from the "isolation experienced by all during the Covid-19 pandemic and ever-present eyes of social media has caused many to self-reflect on their personal perceptions and experiences." The exhibit evokes the concept of self-reflection in diverse media and subject matter as to include all artistic expression.
The annual invitational is a national competitive exhibition that has been hosted by the Fort Smith Regional Art Museum since its inception in 1948. The purpose of this exhibition is to encourage and recognize professional artists. In addition, this exhibition aligns with the museum's mission to foster art appreciation in the community. All works will be for sale. All proceeds will benefit RAM's exhibits, educational programing and the participating artists.
Pratt's video artwork, Peaceful Disturbance, can be viewed here:
Topics: About, Academics, Art, International, Marketing